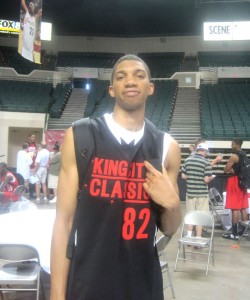 By ALAN AVITAL
NEW YORK
— Rebounding has become a lost art in the game of basketball. Players have become more concerned with highlight-reel dunks and ankle-breaking crossovers  than with developing their entire repertoire. Pittsburgh recruit
Khem Birch
may be an exception. The 6-foot-8, 210-pound Birch may not have
Dennis Rodman's
resume at the age of 18, but his determination to hit the boards made him a 2011 McDonald's All-American last month and a player whom Panthers head coach
Jamie Dixon
is salivating over. "Coaches will take a player out of a game for taking a bad shot or making a bad pass," said recruiting expert
Tom Konchalski
. "I can't recall a coach taking a player out of the game for rebounding the basketball too much. Khem Birch could be that type of player in the Big East." Birch displayed that rebounding prowess Sunday afternoon, grabbing nine boards, including five offensive, to help the Sean Bell All-Stars secure the iS8/Nike Spring Classic championship by defeating Real Scout, 71-60. "I pattern my game after [Denver Nugget forward]
Kenyon Martin
," said Birch, whose 14-point, 16-rebound effort helped Sean Bell defeat New Heights (Artie), 73-56, in Saturday's semifinal. "He's a 6-foot-8, just like me," Birch said of Martin. "And he's extremely athletic." In Sunday's final, Birch played against a future big East foe, St. John's recruit
JaKarr Sampson
, and loved the challenge. "JaKarr is a really good player," Birch said. "It was hard guarding him, but I thought I did well and most of all, we won the championship.
"It was quite a confidence boost by going out with a championship." Birch, who was heavily recruited by the likes of North Carolina, Ohio State and Kansas, chose Pittsburgh last fall because he felt comfortable with the program during his visit. Originally a member of the Class of 2012, he will enroll this fall. Pitt loses shot-blocking center
Gary McGhee
, but returns forwards
Talib Zanna
and
Dante Taylor
and will need Birch to help out down low. "I really liked coach Dixon and the program as a whole," said Birch, originally from Montreal.  "I was told that I would be playing the four or five next season, and with no true centers on the roster, they will run more pick and pop sets." Konchalski believes Birch's upside is endless. "If Khem improves his offensive game, he should be a terrific Big East player," said Konchalski. "Jamie Dixon usually gets the most out of his players, and if I know him, Khem will definitely build up physically."
RELATED CONTENT
**
A potential draft pick, Birch emerges from car crash
**Birch signs with Pitt for 2011
**Birch to Pitt
And like ZAGS on Facebook.