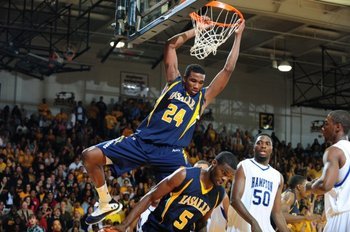 After
Tweeting a week ago that he was headed to West Virginia
,
Aaric Murray
made it official Saturday.
The 6-foot-10, 250-pound center who played two seasons at La Salle has signed a grant-in-aid to attend West Virginia and will be eligible for the 2012-13 season A Philadelphia native, Murray will have to sit out this season due to NCAA transfer rules. He will have two years of eligibility remaining. "At 6-foot-10, Aaric runs the floor well, can jump and certainly block shots, and he is agile enough to fit our system," West Virginia coach
Bob Huggins
said. "Having Aaric practice with us and learn our system this year will no doubt help him when he is able to compete the following year. Our staff is excited to have him in our program for three years." At La Salle, Murray made 58 starts out of the 62 games he played for the Explorers. He ranks second all-time in career blocks (143) at La Salle in two seasons and had 73 blocks as a sophomore, the second most in a single season in school history. As a sophomore, he led the team in scoring (15.2), rebounding (7.7) and blocks (2.3), earning second team all-Philadelphia Big 5 honors. Murray was third in the Atlantic 10 in blocks, seventh in rebounding and 11
th
in scoring. In his first season at La Salle, Murray was named to the Atlantic 10 all-rookie team, tabbed the Philadelphia Big 5 Rookie of the Year and was an all-Big 5 second team selection. Murray averaged 12.2 points, 6.6 rebounds and 2.3 blocks per game and was second nationally in blocks per game. Murray earned first team Class AAAA all-state honors by the
Associated Press
his senior year at Glen Mills School after averaging 17.5 points and 12.4 rebounds per game.
Murray joins
Aaron Brown
(Darby, Pa., Penn Wood High),
Gary Browne
(Trujillo Alto, Puerto Rico, Arlington Country Day School/Jacksonville, Fla.),
Pat Forsythe
(Brunswick, Ohio, Brunswick High),
Jabarie Hinds
(Mount Vernon, N.Y., Mount Vernon High),
Tommie McCune
(Saginaw, Mich., Saginaw High),
Keaton Miles
(Dallas, Texas, Lincoln High) and
Dominique Rutledge
(Newark, N.J., Western Texas College) as signees in this year's recruiting class.