Ashton Gibb
s won't have much time to make a decision that will determine the rest of his life.
Gibbs, a sophomore guard at Pittsburgh from Scotch Plains, N.J., is one of 44 draft-eligible players who will work out this weekend in front of coaches and personnel executives from 26 NBA teams at the Nets facility in East Rutherford, N.J. At least Gibbs can give thanks that he isn't one of the players working out Sunday — because by midnight Sunday underclassmen must decide whether they will remain in the draft or pull out and return to campus. "The whole decision is kind of a train wreck," said veteran NBA agent
Mark Bartelstein
. "If the goal is for players to get really accurate information on where they stand and make a good decision, I think the May 8 date is certainly not benefitting [them]. "You're certainly not giving the players a fair shot to understand where they stand." Gibbs, his father, Temple, and Pitt head coach
Jamie Dixon
, who is expected to attend the workout, all declined comment until Saturday. But Ashton recently said he fully intended to remain in the Draft even though he is not projected by DraftExpress.com to be selected. "I feel I can play at the NBA level," the 6-foot 2 Gibbs said last month by text. "I'm looking forward to the challenge. When I entered the Draft, I entered to work my hardest to get drafted." Like the other underclassmen invited to the event, Gibbs has not yet hired an agent. Along with their coaches and family members, the players will get some feedback from the NBA personnel, and then have to make a very quick decision about whether to stay in school or make, in some cases, a risky jump to the NBA.
The NBA Draft lottery isn't until May 17, meaning teams have no idea where they are picking now, and the Draft itself isn't until June 23. Most teams don't begin bringing players in for workouts until late May and early June. Bartelstein understands that certain players — like
John Wall –
– benefit from coming out early. But for every John Wall, there are dozens of players whose futures remain unclear and who could benefit from more time in college. "I think kids benefit tremendously from more years in college versus less," Bartelstein said. As
Percy Allen of the Seattle Times pointed out
, the NCAA has changed its rules about draft-eligible players several times over the years. At one point, players could return to campus
even if they were drafted.
Voshon Leonard
left Minnesota as a junior in 1994 and went in the second round of the Draft. He came back to school the following season and finished his career as Minnesota's all-time leading scorer.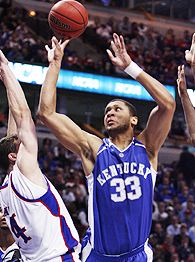 The NCAA then tweaked the system to allow players who weren't drafted to return to school. Kentucky freshman
Randolph Morris
(pictured) entered the 2005 draft and was not chosen. He came back to Kentucky and played half of the 2005-06 season before leaving school after his junior year. He was then signed by the Knicks in March 2007, becoming the first player to go from playing in the NCAA Tournament to being on an NBA roster in the same week. The deadline was then changed to 10 days before the Draft and then again to May 8. Next year the deadline is being moved up again to mid-April to coincide with the beginning of the NCAA early signing period. The NCAA championship this year was on April 4 and the early signing period began April 13. If next year's rules applied this year, UConn freshman
Jeremy Lamb
and Butler junior
Shelvin Mack
would have had nine days to decide whether or not to enter the draft. As first reported by
ZAGSBLOG
, Lamb considered testing the waters but opted to return to school. Mack is testing the waters but has yet to hire an agent.
Still, Bartelstein says the new system will only serve to distract players during March Madness. "You're going to now have players that will be focused at the end of the college season far more on their pro prospects than on worrying about their team," Bartelstein said. "This causes all kinds of issues for their programs, their coaches and for players. You're asking people to make decisions before there's any information to make a decision on. It's going to cause players to turn their focus away from their college team at a critical time in the season." The new rules could also encourage the spread of runners and shady characters who get involved with college players in an attempt to provide draft information. "Now you're going to have a lot of kids with really bad information," Bartelstein said. "It leaves it open for a lot of unsavory characters to reach out to kids. Kids crave information, even if it's bad information. They want some information over none." The NCAA sided with college coaches on this one, maintaining that coaches need to know by the early signing period who is leaving and who is returning so they can recruit and plan accordingly. "It makes it tougher on kids to make a rush decision but I guess they're trying to say, 'If you know you want to leave, then leave. If you're not sure, then you need to come back,'" said Grassroots Canada AAU coach
Ro Russell
, who will have two former players,
Cory Joseph
and
Olu Ashaolu
, at the Nets' workout. "It will probably impact recruiting in terms of kids want to know if [other] kids are going to leave so they can try to replace them on their roster."
Kentucky coach
John Calipari
is holding his own combine Monday and Tuesday for his four draft-eligible players — freshmen
Brandon Knight
and
Terrence Jones,
junior
DeAndre Liggins
and senior Josh
Harrrelson
— to work out in front of NBA executives. "We have arranged for these two days of workouts and accompanying one-on-one interviews after classes so that NBA personnel can get a complete picture of the type of student-athletes in our program at the University of Kentucky,"
Calipari wrote on his Website
. "My hope is this will allow our players to get direct feedback from NBA decision-makers and hopefully create a clearer picture of what their NBA potential may be. Instead of us telling them what we are hearing, they can hear directly from the clubs."
While this bold move works for Kentucky, not every school is in position to hold its own combine.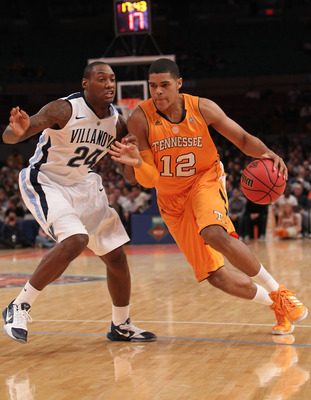 Tennessee freshman
Tobias Harris
of Long Island has already worked out for several NBA teams, according to his father, Torrel, and those teams came away "very impressed with his shooting ability and how physically fit his body looks." The 6-8 Harris is projected as the No. 21 pick by DraftExpress.com. "In Tobias' case we tried to do the very best evaluation we could possibly do by speaking to all the NBA teams that had serious interest in Tobias playing for their teams," Torrel said by email.
"We came away very pleased with the number of NBA teams we spoke with, from projected lottery positions to the top 21 teams. The NBA teams are very impressed with Tobias' versatility, [his ability to play] multiple positions as a player, his work ethic, his character, his unselfishness as a player, his winning desire, his attitude, his willingness to make other players better and his willingness to get better. He's coachable and he's a fast learner at a very young age. His potential is unlimited." In Harris' case, "he has all the information" he needs to make his decision by Sunday, his father said. Yet other players like Gibbs could be left scrambling this weekend to make the biggest decision of their lives.