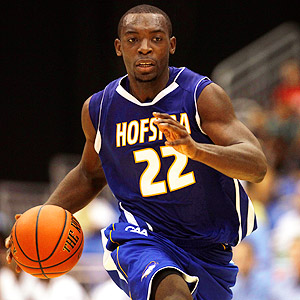 Charles Jenkins
of Hofstra won the 78th Haggerty Award as the 2010-11 All-Met Division I men's college basketball player of the year
.
Jenkins, a senior guard from Queens, N.Y., won for the third consecutive season, becoming only the third player in the history of the award to win it three times. The others were
Jim McMillian
of Columbia (1968-69-70) and
Chris Mullin
of St. John's (1983-84-85).
Jim Ferry
of Long Island University — who interviewed for and was offered the Manhattan job — won the
Peter A. Carlesimo
coach of the year award.
Jason Brickman
of LIU was named rookie of the year. Joining Jenkins on the All-Met first team:
Dwight Hardy,
St. John's;
Mike Glover
and
Scott Machado
, Iona;
Jeremy Hazell
, Seton Hall; and
Julian Boyd,
LIU. Named to the second team:
Jonathan Mitchell
, Rutgers;
Justin Brownlee,
St. John's;
D.J. Kennedy
, St. John's;
Derek Needham
, Fairfield; and
Chris Gaston
, Fordham. Named to the third team:
Wesley Jenkins,
St. Peter's;
Noruwa Agho,
Columbia;
Jamal Olasewere,
LIU;
Justin Robinson
, Rider;
Tyler Murray
, Wagner;
George Beamon
, Manhattan. Jenkins led the Pride and was sixth in the nation with 22.6 points per game. He had 158 assists (2nd CAA), 57 steals and shot 51.7 percent from the floor, 42.0 percent from 3-point range and 82.4 percent at the foul line. He was the Colonial Athletic Association player of the year for the second consecutive season and had his number 22 jersey retired by Hofstra. Jenkins finished his career with a school record 2,513 points in 128 games (19.6 ppg) and wound up second in CAA career scoring behind
David Robinson
of Navy. Jenkins is the fifth player from Hofstra to win the award. Previous Pride players to win include
Bill Thieben
(1956),
Rich Laurel
(1977),
Speedy Claxton
(2000) and
Norm Richardson
(2001).
In his ninth season at the helm, Ferry guided the Blackbirds to a 27-6 record (improving from 14-17 in 2009-10), their first Northeast Conference (16-2) regular season title since 1997-78 and first NEC tournament championship since 1976-77. LIU, which was fourth nationally in scoring with 82.7 points per game, captured an NCAA tournament berth for the fourth time in school history and the first time since 1997. The 27 wins for LIU were the most for the team since a 28-3 mark in 1936-37. Also named NEC coach of the year, Ferry was previously named All-Met Division II coach of the year while at Adelphi in 2000, 2001 and 2002.