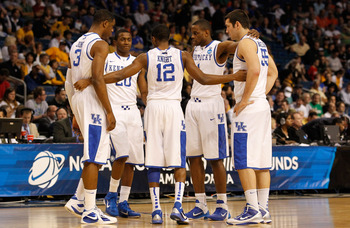 NEWARK
— Everywhere you look here, there are potential one-and-done freshmen starring in the East Regional.
Of the Top 10 players on Chad Ford's Big Board, three were sent to the "Brick City": No. 3
Harrison Barnes
of North Carolina, No. 4
Jared Sullinger
of Ohio State and No. 10
Brandon Knight
of Kentucky. Kentucky forward
Terrence Jones
is also a potential lottery pick, and fellow frosh
Doron Lamb
could get drafted as well. After Ohio State lost to Kentucky in the Sweet 16  Friday, Sullinger announced he planned to return for his sophomore season. So, what do his fellow frosh here think about that? And will it have any influence on their own decisions? "Really, I am just  having fun in this," Jones said Saturday, a day before Kentucky will meet North Carolina for a spot in the Final Four. "I don't know what [Sullinger] said. That's his decision and that's a good decision since he felt he could take this team farther [next year]." Knight, the latest in a line of one-and-done
John Calipari
point guards that includes
Derrick Rose, Tyreke Evans
and
John Wall,
was equally vague. "I am enjoying the time that I'm having here, and you know loving the college experience," he said. Lamb, the Queens native and former Oak Hill Academy star, was the only one to make a definitive statement. "I am just having fun playing with these teammates and playing with Coach," Lamb said. "I just want to have fun. I'll be back next year, so I can't be worried about leaving." A year after losing five players in the first round of the NBA Draft, and four freshmen, Calipari said this group was "different" from last year's crew that featured overall No. 1 pick
John Wall, DeMarcus Cousins and Eric Bledsoe
and lost to West Virginia in the Sweet 16.
"Last year's team was not an execution team," Calipari said. "We would bowl you over, we would outrun you. Get it up the court and get a basket and if we missed it, we'd tip it in or someone would kick to another guy and they'd drive it and try to dunk it. This is a different team. Yet obviously just as effective, but different." Calipari also said he'd love the opportunity to coach Jones, Knight and Lamb beyond this year. "I want to coach this team for three more years, are you kidding me?," he said Friday night. Whether they come back or not, Calipari will likely face this same set of issues a year from now. His 2011 recruiting class may be his best ever. It features four McDonald's All-Americans in
Michael Gilchrist, Marquis Teague, Anthony Davis
and
Kyle Wiltjer.
One issue for all the potential one-and-done guys is the state of the NBA's collective bargaining agreement. The CBA is due to expire June 30, but the NBA Draft is slated for June 23 right here at the Prudential Center. "Everybody tells me there is going to be a lockout but I will do one thing that I have always done — here is the information, what do you want to do?" said Carolina coach
Roy Williams.
Aside from Barnes, 6-10 sophomore
John Henson
and 7-foot junior
Tyler Zeller
are potential draft picks off the Tar Heels roster. "I had strong feelings with some kids what they should be and I have told them that," Williams said. "I've not had strong feelings in most cases and told them that.
"But then," he said, "I step back and say, ' Hey, tell me what you want to do and I'm with you.'"
RELATED CONTENT
**
Sullinger says he'll stay at Ohio State
**
New York City, Oak Hill repping well in NCAAs
**
Sullinger will have late uncle on mind in Newark
**
Source: Williams would consider Texas
**
Latest Calipari point guard, Brandon Knight comes up big