NEW YORK
—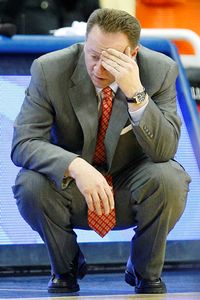 Pat Hobbs
arrived at Madison Square Garden Wednesday and was informed of
Bobby Gonzalez's
latest off-the-cuff riff.
"No comment," said Hobbs, the Dean of the Seton Hall Law School who fired Gonzo last spring. In comments made to Ian Begley of ESPNNewYork.com, Gonzo took a shot at current Seton Hall  head coach
Kevin Willard
, whose team lost to Rutgers, 76-70 in overtime, Tuesday in the first round of the Big East tournament. "If I was back this year we would have won over 20 games and we would've went back to the NCAA [tournament]," Gonzalez said, apparently counting a Seton  Hall tournament berth among his accomplishments during his four-year tenure in South Orange. "To have a record like that with the talent that I left them is unacceptable." According to sources with knowledge, Gonzalez is not supposed to comment on Seton Hall by virtue of his settlement agreement with the university. He sued the university last year for wrongful termination. Ironically, Gonzo, who has attended several Knicks practices this season, said he's gained "perspective" from his time off and that he probably picked too many fights during his time at Seton Hall. "I think that I was too focused on winning games, making it, getting to the top. I was just too much of a maniac, I was too driven," Gonzalez said. "I think that the good thing that this year did was [it] made me put it in perspective and take a step back and realize it's not life and death. "I probably shouldn't have picked as many fights, I probably was too aggressive. … And that made everybody a little uncomfortable. I should have been a little more politically correct, a little more diplomatic. But at the same time, who I am and part of what got me to [coaching Division I basketball] was my personality."
As for Seton Hall's current and future, Hobbs said Seton Hall underperformed this season due mainly to the absence of
Jeremy Hazell
for 13 games due to a broken left wrist. "The key point of the season for us was losing Jeremy Hazell for 13 games," Hobbs said. "If Jeremy Hazell doesn't go down for 13 games, it's a whole different situation for us. There were real close games at the beginning [of the season] that we win. Then they were getting used to a different mix of talent out there at the end of the season." Willard threw guards
Keon Lawrence
and
Jamel Jackson
off the team 
for disciplinary reasons
and the team played down the stretch with a rotation of eight. The Pirates beat then-No. 15 St. John's and Marquette at home before falling to Rutgers in a crazy game that saw five players, four Pirates, foul out in the extra period. "Everybody played hard," Hobbs said. "Kevin did a wonderful job if you think of all the things he had to deal with." Seton Hall loses several seniors, including Hazell,
Jeff Robinson
and
Eniel Polynice
.
Herb Pope
previously
said he would return for his senior season
, but that remains to be seen. Junior guard
Jordan Theodore
and freshmen
Patrik Auda
and
Fuquan Edwin
figure to be the key returning pieces. They will be joined by several newcomers, including Northfield Mount Hermon (Mass.) guard
Aaron Cosby.
"Everybody's excited about the future," Hobbs said. "It's going to take a couple of years, but Seton Hall basketball is in very good position for the future."
(Photo courtesy US Presswire)