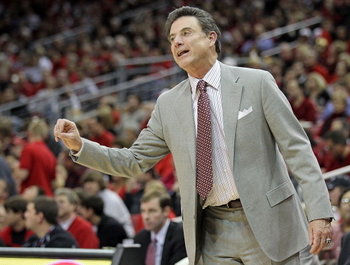 One day after Louisville head coach
Rick Pitino
used the word "confused
" to describe a FoxSports.com college basketball writer,
Art Alvarez
of the Miami Tropics said he never believed Pitino took the Puerto Rican National Team coaching job to gain a recruiting edge.
"I disagree with what was written that Coach Pitino had only taken the job for recruiting purposes," Alvarez said Thursday by phone from Miami, referring to a column for which he was interviewed suggesting Pitino agreed to coach Puerto Rico in 2011 Olympic qualifying in order to land 2012 shooting guard
Ricky Ledo,
who has since committed to Providence. Alvarez, who is Pitino's point man on the Puerto Rico situation, said Pitino took the Puerto Rican job even after he had lost out on another Puerto Rican recruit, 6-foot point guard
Angel Rodriguez
of Miami, who committed to Kansas State. "During the recruiting process, Rick would come down [to see Rodriguez]," Alvarez said of Pitino's recruitment of Rodriguez. "He wanted him real bad. And I knew by then [the time of the Puerto Rico press conference], that Angel had committed to Kansas State. "Two or three days after the [FoxSports.com] article came out, well, you know, Ricky Ledo [committed to] Providence." In an article published Wednesday on Pitino's own Website, the coach listed five reasons why he took the Puerto Rican job, listing recruiting as No. 4. "This gives me the opportunity to evaluate young players who someday could play at the Division I level," Pitino wrote. "This reason is extremely remote as we have already finished recruiting in 2012 and almost done for 2011." Alvarez emphasized that even though Pitino has now struck out on both Rodriguez and Ledo, he planned to maintain his commitment to the team. Puerto Rico must finish in the top two next summer to qualify for the 2012 London Olympics.
"The proof is in the pudding," he said. "Here's two kids that he recruited real hard, Angel Rodriguez in Miami and Ricky Ledo, and he didn't get either one of the kids. So what is he supposed to do now? He's supposed to resign from being the coach of Puerto Rico? Not at all, not at all." He added: "Pitino wants to [land a Puerto Rican player] and if it happens, good. And if it doesn't happen, that's also good. But his intentions are that he wants to coach there. He's coached in the NBA, coached in New York, coached in Boston, coached Louisville, was very successful. Coached at Kentucky, was very successful. But never coached in the Olympics. He knows that they have their back against the wall. If I could come and make a difference and if I could do that, that would be great. "He wants to win. He wants to have an opportunity to coach in the Olympics, which he's never done." Alvarez, who is also friendly with Kentucky coach
John Calipari
, said both Cal and the Dominican Federation had mutual interest in Cal coaching the Dominican team in 2011 Olympic qualifying. "I actually talked to a couple of people that told me that at some point if they would come and talk to him, that he would have an interest in hearing them out," Alvarez said. "I don't know if that's happened. I don't know if anybody from the Dominican Republic Federation or the National Team have approached him. I know that I spoke to one of the members there, and they said that they would love to have a coach of his caliber to coach them."
Calipari has said he hasn't received any direct inquiries from the Dominicans, so someone would have to go through his intermediaries first. "If it's going to happen, I think it's going to have to be announced quickly," Alvarez said. "The good thing about Pitino and Cal, it could happen because it's in the summertime. And remember, a lot of these guys, as far as their 2010, 2011 classes for recruiting, are pretty much done. "So they're going to definitely have the time to do that."
And like ZAGS on Facebook.