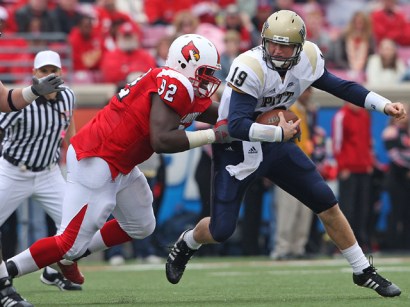 By DAN GELSTON
PHILADELPHIA (AP)
— The Big East conference is set to expand its football roster. Big East presidents unanimously agreed to expand the number of football-playing schools to 10 at Tuesday's board of directors meeting in Philadelphia. Commissioner
John Marinatto
said in a statement potential expansion candidates will start to be evaluated. He declined comment to The Associated Press, along with athletic directors and Big East adviser
Paul Tagliabue
, after the meeting. The 16-member Big East, where all members play basketball, has eight teams playing football. There was no timetable announced for a decision. One obvious candidate to join is Villanova. The conference informed Villanova shortly before Labor Day that it wanted to add the Wildcats to the football roster. Villanova currently plays in the Colonial Athletic Association in FCS. Villanova won a national championship last year and is considering a move up to the Football Bowl Subdivision. If it does, that will fill one of the Big East's spots. "Our football evaluation is ongoing," Villanova AD
Vince Nicastro
said. "We are moving forward as quickly as we can, but not at the expense of being absolutely thorough. We still don't have a specific decision date, but it is likely to be resolved sometime during this academic year." Villanova, which made the Final Four in 2009, has been part of the Big East basketball conference since 1980. The Wildcats have played at the second-tier level since 1985 and rejected an earlier offer to join the Big East in 1997. Connecticut accepted an invitation that season to start the process to move up to what was known as Division I-A.
Other potential expansion targets include TCU from the Mountain West Conference, and Central Florida, Houston from Conference USA. While Texas schools seem like an odd fit geographically, it would allow the Big East to tap into huge television markets, as well as fertile recruiting territory. Temple, which was essentially kicked out of the Big East a few years ago and is now experiencing a renaissance in the Mid-American Conference, could also be a possibility, but Villanova would also deliver the Philadelphia market so there might not be a need for two schools from that area. The move also raises the idea that expansion could lead to a split between basketball only and the football members. Pittsburgh, Syracuse, Rutgers, Louisville, West Virginia, USF, Connecticut, and Cincinnati all play football. Non-football members such as Villanova also include St. John's, Seton Hall, Marquette, DePaul, Providence and Notre Dame. UConn basketball coach
Jim Calhoun
said at Big East media day last month that a shakeup could come. "Since football's come, we've had less and less influence," he said. "That's good in many ways. I love football. But the league is set up to be very good for football and it's become so much more difficult for basketball. "For basketball, you've really created a nightmare for coaches. The 18 games continues to be a nightmare for me personally. Always will be." While Big East is as strong as any basketball conference in the country, the football generally lags behind conferences such as the Big Ten and SEC. Because of that, the Big East's teams are targets for other leagues, which could offer more money and higher profiles.
When the Big Ten announced last December it was considering expansion, it made sense that the conference might target Big East schools as new members. Instead, the conference started its 20th football season with its membership intact. That doesn't mean the Big East is entirely in the clear when it comes to its teams being poached by other leagues, another reason why it needed to be proactive and expand. "I don't think anything's settled at all," Calhoun said. "I still think there will be change."
Follow Adam Zagoria on Twitter