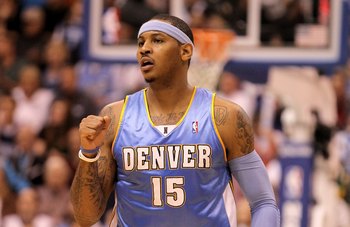 NEW YORK
— Despite all the
Carmelo Anthony
talk swirling around the Knicks just a few days before the season opener Wednesday in Toronto, the players say they aren't distracted.
"Those types of conversations happen all the time," shooting guard
Roger Mason
said Saturday. "So as a player you don't really concern yourself with it. We all feel really good about the team we have. Pretty talented, pretty deep. And we're excited for the season. So I don't think anybody in the locker room really worries about it." Anthony reportedly wants to play for the Knicks, but the Denver Nuggets may opt to wait until after the February trading deadline to deal him,
according to a New York Post report
from Saturday. Citing an "NBA executive familiar with Denver's thinking," the Post reported that the Nuggets believe they can still receive quality assets in return for Anthony after February, just as the Toronto Raptors did in the sign-and-trade involving
Chris Bosh
to the Miami Heat. As of now, the Knicks do not have a first-round draft pick to offer Denver in an Anthony deal, but more time could help them obtain one. The Nuggets also hope that Anthony may opt to sign his extension if Denver has a successful season. Mason and teammate
Ronny Turiaf
were both asked about NBA Commissioner
David Stern's
threats of potential leaguewide contraction but said they hadn't heard anything about it. "I haven't even seen a quote yet, so I haven't had time to digest it," Mason said. Said Turiaf: "I'm sorry. I flew back from Montreal last night so I didn't have time to read the paper today. But if the Commissioner said that he definitely must have a reason and you can come back and ask me that question a couple days after I read the article."
On a conference call Friday, Stern said that eliminating teams "has to be discussed in the context of collective bargaining," but he added, "I'm not spending a lot of time on it." Stern said Thursday that the NBA wants player costs to drop $750-800 million from the roughly $2.1 billion annually spent on player salaries and benefits. The NBA reported a loss of $380 million last season, and projected about a $350 million loss for the current season. The 6-5 Mason was brought to the Knicks as a free agent to contend for the starting shooting guard spot, but has not impressed during the preseason, averaging 4.3 points on 29 field goal shooting percentage. Head coach
Mike D'Antoni
recently said that Mason needs to "make shots." "Typically, preseasons, if you look at my past, aren't my strongest," Mason said. "I've never really played well in the preseason. But it's an opportunity to kind of get that out of your system and I'm excited for Wednesday. He added: "I'm an eight-year vet. I started 70-some games for the Spurs [in 2008-9] and we won the Division. I was top 10 in shooting. Whatever it was, I did great. It's not like I'm a rookie. Hopefully, what I've done in the past shows who I am as a player. But of course, you always have to prove yourself." The players made the comments during
Tina Cervasio's
event — "Tina's Tips! A Gal's Guide to the 2010-11 NBA season — at Haru on Gramercy Park.