Steve Lavin's
recruiting reach for the Class of 2011 now extends from New York to Ohio to Texas.
Lavin got his third commitment Thursday evening when
D'Angelo Harrison,
a 6-foot-3 shooting guard from Dulles (Texas) High, verbally committed on ESPNU. "I'm going to take it all the way to New York and play for St. John's," Harrison said. The No. 9 shooting guard in the Class of 2011 per Rivals, he chose the Johnnies over Baylor, Oklahoma State and Marquette. "That kid really makes plays," one Division 1 assistant coach said. "That's what you want. He's a guy that has a shot that you have to respect with range and he can go by you. He has a great first step. "He's a scorer but his greatest value could be as a play-maker. When he gets around better players, he can dish it as well. He's not scared of anything, either. He's got confidence." Harrison joins 6-7 wing
Maurice Harkless
of Queens and 6-8 forward
JaKarr Sampson
of Brewster (N.H.) Academy in St. John's 2011 class. Lavin still has seven scholarships to give and sources said he may opt to land seven high school players and three JUCOs. JUCO guard
Nurideen Lindsey
could be the next domino to fall. "I just think it's the best fit for me," Harrison said. "I went up there and had a talk with Coach Lavin and all the coaches and I just had a fun experience. I got to see everything I need to see and make my decision, a very good one." Lavin is assembling a national class and has sold recruits on the bright lights of Broadway and Madison Square Garden. "Location really doesn't matter to me," Harrison said. "I want to go play for somewhere I can be one of the top guys on the team and I think that's where I'm going to be able to play."
LAVIN ADDS KEADY TO STAFF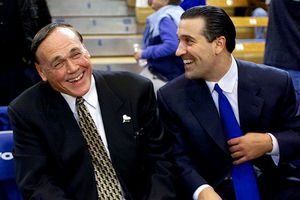 In other St. John's news, Lavin will announce Friday night that he has added former Purdue coach
Gene Keady
to his staff. "The main responsibility that he'll have with St. John's basketball program will be to be here from October to April to observe practices, be in our coaching staff meetings and helping with our practice planning," Lavin told ESPN.com. Lavin worked for Keady, 74, from 1988-91 at Purdue and said at his introductory press conference that he wanted to bring Keady back in some role. "He [Keady] was the first phone call I made just prior to my interview," Lavin told ESPN.com. "Throughout the process, he was someone I was thinking of as an ideal senior advisor to our staff."
During his coaching tenure at Purdue from 1980-2005, Keady reached the postseason 22 times and won six Big Ten titles. He later worked as an analyst for the Big Ten Network. "I wanted that grandfather presence with our team," Lavin told ESPN.com. "Coach Keady has the energy, vitality and a great deal to offer us. The timing and the fit just seemed right."
MIDNIGHT MADNESS ATTENDEES (UPDATED)
St. John's is expecting the following recruits for Midnight Madness:
D'Angelo Harrison, JaKarr Sampson, Maurice Harkless, Nurideen Lindsey, Jaron Sina, Jason Boswell, Isaiah Lewis, Kerwin Okoro
,
Brian Bernardi
and
Jevon Thomas.
(Photos courtesy Rivals.com, AP)
Follow Adam Zagoria on Twitter