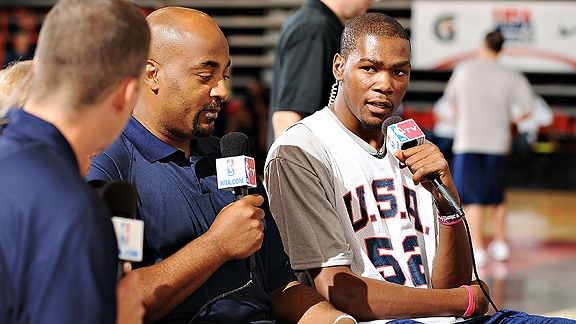 NEW YORK
– On his way to Madison Square Garden Sunday morning for Team USA's exhibition with France,
Kevin Durant
spoke by phone to his Oklahoma City Thunder teammate
Jeff Green.
Green and
JaVale McGee
were cut Sunday as the roster was whittled to 13 players and Durant tried his best to support his friend. "That's always tough, man," said Durant, who had 14 points and eight rebounds in an 86-55 victory before a sellout Madison Square Garden crowd of 19,763 that included
Tony Parker, Eva Longoria and John Wall.
"I just told him that I'm gonna represent for him," Durant added. "I love him as a brother.  He knows the business of it. He's perfectly fine with it. He's going to come back during the season with a chip on his shoulder ready to work." Durant may be the star of this team, but he can relate to Green's situation. Durant was cut from the 2008 Olympic team "I mean, I had a feeling," Durant said of that experience. "You're around the best players in the world with D-Wade and Carmelo and Chris Paul, LeBron, Kobe. I was a young guy and I had to prove myself, so of course I knew I was on the bubble. "It was kind of like inspiration for me to keep pushing and keep working." There is not a single member of the 2008 "Redeem Team" on the American roster that will compete in the FIBA World Championship beginning Aug. 28 in Istanbul, Turkey. In the absence of LeBron, Kobe and Carmelo, that leaves the 6-foot-9 Durant, the youngest player ever to win the NBA scoring title (30.1 ppg), as this team's go-to guy.
"He's our guy, he's the go-to guy," point guard
Chauncey Billups
said of Durant after practice Friday. "We're gonna need him to score and do all the things that Kobe or LeBron did on the Olympic team, or D-Wade. We're gonna need him to be that guy for us. At the same time we don't want to put too much pressure on him and we don't want to let everybody else off the hook. Everybody's gonna have to chip in. But he's the man, he's our guy." Durant, of course, will have none of that. "It's not like that on this team," Durant said of being the go-to guy. "One thing that is good is that once we step in our lockerroom and bus, nobody thinks that. Of course we have a lot of scorers and I'm going to be counted to be one of those scorers, but I know I'm not the main guy. Everybody knows that here. It's just trying to be a good effort. But if other teams think that, I'm looking forward to that challenge." Durant's comment underscores his humble approach to the game. While James created a furor and an uproar by announcing his "decision" to play for the Miami Heat during a one-hour ESPN special, Durant quietly announced on Twitter that he was signing a contract extension with the Thunder. "I keep telling people my situation was a little different than the other guys. It was just reupping my contract, and I'm a quiet guy, a low-key guy, so I chose that way," Durant told ESPN.com's Chris Sheridan earlier this month. "LeBron James is the biggest name in sports, nothing he does is ever going to be quiet, so you can't blame him for what happened and how he made his decision."
Durant may be the best player on this incarnation of Team USA, but point guards Billups and
Rajon Rondo
at times have had to encourage him to be more assertive in trying to score. "He's doing better with that," Billups said. "He's doing better with being aggressive and trying to score the ball." Being a vocal leader also doesn't come naturally to Durant. "I don't think that honestly that is in everybody," Billups said. "I've always been a believer that you either kind of have it or you don't. You can learn different things to do as far as leading, but I just think that deep down being able to lead people is kind of in you." Said Rondo of Durant: "He can lead by example. He doesn't have to be vocal. Just doing the right things out there on the court." Team USA chairman
Jerry Colangelo
agrees that just because Durant is the best player doesn't mean he has to be its most outspoken one. "No one changes their stripes, their colors," Colangelo said. "They are who they are. Kevin leads by example. The more he performs to the level he's capable of playing, that's the leadership we'll get out of him." It's been two years since Durant was cut from the 2008 Olympic Team. He may not be the most outgoing leader on this team, but he knows this team has something to prove if it wants to bring home the gold.
"Of course," he said. "We want to go over there and win it. A lot of the big-name guys aren't here and people are counting us out so we have something to prove."
FREE THROWS
Frenchmen
Tony Parker
of the San Antonio Spurs,
Ronny Turiaf
of the Knicks and
Joakim Noah
of the Chicago Bulls were all in the audience, as was Red Bulls star
Thierry Henry…
Team USA still has to cut one more player by Aug. 26 when rosters are due. At this point,
Russell Westbrook,
also of the Thunder, could be the odd man out after scoring just two points in 7 minutes, 14 seconds.
Eric Gordon
seemed to help his cause by scoring eight points in nearly 14 minutes. "Eric Gordon has been playing as consistently as anyone," Colangelo said. "He's really been that good. And I've said it over and over again, you never have too many shooters." (Photo courtesy Getty Images)
Follow Adam Zagoria on Twitter