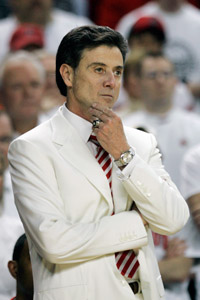 Louisville coach
Rick Pitino
flatly denies a Daily News report that he has interest in becoming the next head coach of the Nets.
"I can't keep talking about rumors and untruths," Pitino, whose team visits St. John's Thursday night at Madison Square Garden, said on the Big East conference call. "All I can say is in the past nine years I've never had one conversation with a pro team. I had one conversation with a college team and that was Providence College. There's absolutely no truth to it [the Nets story] and I shouldn't address it." Pitino joked that if he was trying to get "rejuvenated" in the wake of the
Karen Sypher
sex scandal that hit last summer and the threats of a rising Kentucky team, he would take a vacation to a tropical paradise. "If you're going to get rejuvenated, I don't think you take over the Nets," he said.
Read the full story here
. And read here about how the
middle-of-the-pack Big East teams are feeling the NCAA squeeze
.
Follow Adam Zagoria on Twitter