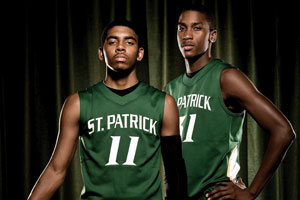 The latest version of the
National Prep Poll
is out and three of the Top 15 teams in the nation are once again from North Jersey.
St. Patrick (6-0) is No. 2, Paterson Catholic (6-0) No. 9 and St. Benedict's (7-1) No. 15. St. Patrick won the MaxPreps Holiday Classic in San Diego behind a combined  47 points from Duke-bound PG
Kyrie Irving
and junior sensation
Michael Gilchrist
(pictured above courtesy
SteveBoylephoto.com
). Paterson Catholic captured the prestigious City of Palms Classic over
Austin Rivers
and Winter Park (Fla.) before beating Huntington (West Va.) Prep in the Cancer Research Classic in West Virginia and
previously unbeaten St. Peter's Prep, 75-55, Sunday in Teaneck
. Seton Hall-bound forward
Fuquan Edwin
poured in a game-high 25 points and junior point guard
Myles Mack
added 23, according to my esteemed former Herald News colleague Keith Idec. Meanwhile, Temple-bound guard
Aaron Brown
dropped 17 points and earned MVP honors to lead
Dan Hurley's
St. Ben's team to a 69-48 victory Saturday night over St. Frances (Md.) in the Cancer Research Classic. Texas-bound junior point guard
Myck Kabongo
added 12 points and 12 assists and
Mike Poole
scored 13 points. Rutgers-bound forward
Gil Biruta
added 10 points and 9 boards.
Bob Hurley's
St. Anthony team fell to Arlington Country Day (Fla.), 54-41, in the finals of the Tampa Hoops Classic on New Year's Eve. The Friars are unranked in the PrepNation national poll but No. 6 regionally. They are 5-1 while playing without star forwards
Ashton Pankey
(shin splints) and
Devon Collier
(academics). Pankey has committed to Maryland and Collier to Oregon State.
FORDHAM OFFERS JAMES, JOSEPH PUTS ON A SHOW
Fordham has offered a scholarship to Paterson Catholic 6-5 senior point guard
Jayon James
, who also has interest from Rice and several Ivy League schools…Findlay (Nev.) Prep guard
Cory Joseph
poured in 26 points and 16 rebounds Sunday
as Findlay, No. 3 in the Prep Poll, earned a 91-70 victory over National College Prep in the championship game of the Hampton Inn & Suites Invitational. Texas-bound forward
Tristan Thompson
, a fellow Canadian, added 18 points.
Joseph will sign late and is considering UNLV, Villanova, UConn, Minnesota and Texas.
**For the complete and updated ZAGSBLOG high school hoops calendar, click here.
(Photo courtesy ESPN Rise)
Follow Adam Zagoria on Twitter