Tobias Harris
and
Kyrie Irving
together in college?
Imagine what a dangerous tandem that would be for some lucky college program. It could happen if both seniors choose the same school. But at this point the two stars would have to both select Kentucky, which they visited this weekend for Big Blue Madness, or Georgia Tech, which both will visit in the coming weeks. "We talked about that but both of us don't have a leader in this process and the only schools recruiting us both are Kentucky and Georgia Tech," the 6-foot-8 Harris from Dix Hills (N.Y.) Half Hollow Hills West, second from right in the above photo, said Sunday night by text.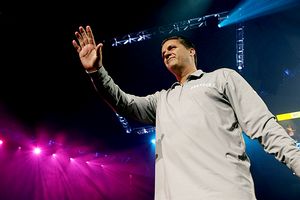 After watching more than 23,000 fans turn out for Big Blue Madness, Harris said his favorite part of the visit was "the fans and how they support their basketball team."
And first-year coach
John Calipari
put on the fullcourt press with Harris by telling him he was a player who could "come in and score and play many positions." Tobias and his father, Torrel, went to three practices in two days. "Calipari is such a good teacher," Torrel. "He's going to bring that program back to the good days. That's what he wants to do, bring them back to the glory days of Kentucky basketball." The 6-2 Irving out of Elizabeth (N.J.) St. Patrick has now visited Duke, Texas A&M and Kentucky and will visit Georgia Tech next weekend and then Seton Hall Oct. 30. "Yes, I plan to," Irving said by text Saturday night after returning from Kentucky. "All the places that are on my list I can see myself playing at." Harris, meantime, has the is8 playoffs next weekend in Queens and will also visit Louisville, West Virginia, Georgia Tech and Maryland. The semis and finals of is8 are Oct. 31-Nov. 1, so if the Unique All-Stars advance that far, Harris would visit Louisville Nov. 1 right after the is8 game. If he loses beforehand, he would go earlier. Harris has already visited Syracuse, Tennessee and Kentucky. "I'm just looking for a school with a great atmosphere and good character guys I can get along with," Harris said.
LESLIE MISSES UK VISIT
Raleigh (N.C.) Word of God forward
C.J. Leslie
did not make the trip to Kentucky for Big Blue Madness, according to his brother. I hope to have an update Monday.
Leslie had in-home visits this fall with Kentucky, Florida, Maryland, Oregon, Georgia Tech, Georgetown, Seton Hall, N.C. State and Florida International, according to newsobserver.com. His former Word of God teammate
John Wall
is a freshman point guard at Kentucky, but Leslie insists he's open. "It would be fun to play with him at point guard in college, but I'm still gathering information," Leslie told newsobserver.com. "I really am wide open."
BLUE TO MARQUETTE
Madison (Wisc.) Memorial combo guard
Vander Blue
committed to Marquette Sunday after he had initially committed to Wisconsin as a sophomore. The 6-4 Blue chose the Golden Eagles over Wisconsin, Arizona, Florida and UCLA. "It was tough, decommitting from Wisconsin and then turning around and committing to Marquette," Blue told the
Milwaukee Journal Sentinel
. "That's like me going from Duke to North Carolina. You know there's going to be some tensions, regardless. But at the end of the day, I've got to do what's best for me and my family, and that's what it was."
Blue visited Marquette over the weekend for Midnight Madness. "I love the Marquette culture, have a real good connection with Buzz [Williams], and I feel like it was a great fit for me," he said. "Their style of play is my style, it's close to home, my mom can come see me play anytime. I feel like it was a good decision for me, and that's where I want to pursue my college career." Blue is the third Madison Memorial products to pick Marquette over the last four years, following 
Wesley Matthews
and
Jeronne Maymon
, according to the Journal Sentinel. Blue joins 6-6 wing
Jamail Jones
of Montverde (Fla.) Academy in Marquette's recruiting class. The Eagles have two scholarships left. (Photos courtesy Torrel Harris, AP, Milwaukee Journal Sentinel)
Follow Adam Zagoria on Twitter
.