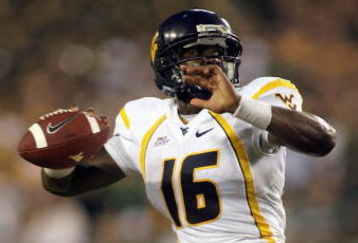 The Big East announced its weekly football award winners for this week.
BIG EAST OFFENSIVE PLAYER OF THE WEEK
Jarrett Brown • Sr. • QB • West Virginia • West Palm Beach, Fla.
Brown had 407 yards of total offense to key West Virginia's 35-20 win against East Carolina. He completed 24 of 31 passes for career highs of 334 yards and four touchdowns and added 73 rushing yards on 10 attempts. Brown had a hand in 80 percent of West Virginia's 509 total yards against the Pirates and became just the fourth Mountaineer player in history to register 400 yards of offense in a game.
BIG EAST DEFENSIVE PLAYER OF THE WEEK
Adam Gunn • Sr. • LB • Pittsburgh • Vandergrift, Pa.
Gunn, a rare sixth-year senior, registered three sacks and had 11 tackles in Pittsburgh's 54-27 win at Buffalo. His three sacks resulted in a combined loss of 25 yards and his third sack denied a Buffalo red zone scoring chance in the fourth quarter. Gunn, who suffered a broken neck in last year's season opener and missed the remainder of the 2008 season, has five sacks through two games.
BIG EAST SPECIAL TEAMS PLAYER OF THE WEEK
Mardy Gilyard • Sr. • WR • Cincinnati • Bunnell, Fla.
Gilyard had a 53-yard punt return for a touchdown as part his four-TD effort in Cincinnati's 70-3 win against Southeast Missouri State, becoming the first Bearcat player to return a punt for a score in 12 years. Gilyard, who had 197 all-purpose yards against the Redhawks, became the first FBS player to score on a punt return, run and catch in the same game since UCLA's Maurice Drew (now Maurice Jones-Drew) did it against California Oct. 8, 2005.
WEEKLY HONOR ROLL
Lindsey Witten, DE, Connecticut — Had three sacks and 3.5 tackles for loss in a 12-10 loss to No. 19/19 North Carolina.
Dion Lewis, RB, Pittsburgh — Ran for 190 yards and two touchdowns on 24 carries in a 54-27 win at Buffalo.
Jourdan Brooks, RB, Rutgers — Ran for 124 yards and three touchdowns in a 45-7 win against Howard.
Moise Plancher, RB, USF — Ran for 115 yards and two TDs in a 35-13 win at Western Kentucky.
Brandon Hogan, DB, West Virginia — Had a game- and career-high 11 tackles with two pass breakups in a 35-20 win against East Carolina.
Follow Adam Zagoria on Twitter.