Scottie Reynolds wasn't invited to the NBA Combine this weekend in Chicago, but he still hopes to get selected in the June 25 NBA Draft.
"It wasn't disappointing at all," Reynolds said Friday by phone, referring to the 52 players invited to the event. "Would I like to be there? I would be lying to you if I said I wasn't. It just didn't fall my way. I kept a great attitude about it. And I'm just going to the next day, and controlling the things I can control."
The 6-foot, 190-pound Reynolds is testing the NBA waters but hasn't hired an agent. If he gets drafted at all, it likely won't be until the late second round.
Read the full story here.
EDDIE JORDAN TO THE SIXERS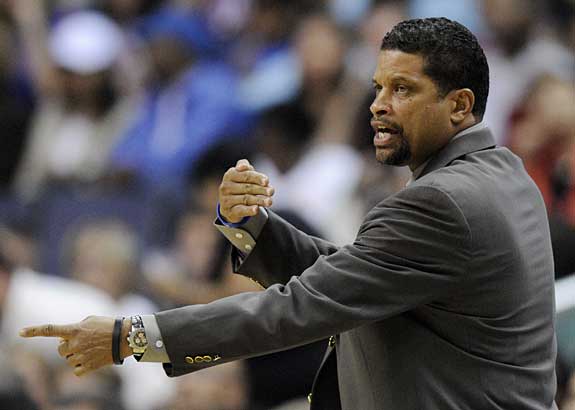 Eddie Jordan
, the former Rutgers star and Washington Wizards coach, will be named the new coach of the Philadelphia 76ers Saturday, according to the Philly Daily News.
"I think Eddie Jordan would be a fine choice,"
Charles Barkley
told the newspaper. "They're going to have a good, solid team. They're pretty much stuck with the team they've got for the next few years, because they're paying [some] guys so much money. I think he's a helluva coach. He did a good job with Washington. That team probably overachieved. Him getting to the playoffs every year, people started thinking they deserved to go farther, but they weren't that good."
RUTGERS WINS AGAIN
Speaking of Rutgers, the Scarlet Knights improved to 3-0 on their European Vacation with 70-52 win over CBA Azul Friday evening at Pabellon Beatriz Mendoza Rivero. Sophomore guard
Mike Rosario
scored a game-high 17 points on 6-of-12 shooting and
Hamady N'Diaye
posted 11 points, 9 boards and 7 blocks.
Jonathan Mitchell
added 10 points.
Greg Echenique
didn't play because of a cut lip. "It was another really good effort" said head coach
Fred Hill
. "We shared the ball well tonight. Defensively, we were as active as we've been and that really changed the course of the game. The defense created easy baskets on offense. On the boards we did an outstanding job."
KENTUCKY'S BACKGROUND CHECK ON CAL
Dan Wolken of the Memphis Commercial Appeal reports that Memphis AD
RC Johnson
and Kentucky AD
Mitch Barnhart
never discussed the NCAA report that came out in January indicating someone else took
Derrick Rose's
SAT. "I'm trying to remember. I don't know. The only one I talked to at Kentucky was [Barnhart], and I don't think that we talked about it,"
Johnson said
.
So in the process of Kentucky's hiring of Calipari, Memphis is under investigation and Kentucky didn't speak with anyone from the NCAA or Memphis about it? Sounds like quite the background check. Memphis commit
Will Coleman
also told Wolken he is "100 percent" committed to the Tigers despite the NCAA investigation into the Rose situation. "Oh yeah, of course, I'm 100 percent,"
Coleman said
. "I'm ready." "At first, at first I thought about it like 'Man,' it was shocking," Coleman said. "But when I thought about it, and from what I've heard, I don't think anything serious is going to happen, so I'm ready. I'm not worried."
Finally,
Erin Calipari,
Cal's daughter, has taken to
bashing ESPN.com's Pat Forde on her Facebook page
prompting Cal to
apologize for his daughter's behavior
.
"I love my children dearly as u all know. But my daughter Erin has gotten a little over-zealous in defending her daddy's honor," Cal tweeted.
It really is an amazing technological world we live in where Erin Calipari's comments are part of the sports news landscape.
I can only hope my 4-year-old daughter Grace is as diligent in defending her dad should I ever become involved in an NCAA investigation.