John Calipari's
honeymoon at Kentucky sure didn't last long.
Just a week after wrapping up what some consider among the best recruiting classes in the history of college basketball,
the Memphis Commercial Appeal breaks the news
that the NCAA is investigating Memphis — Cal's old program — for major violations during the 2007-8 season. The NCAA sent Memphis officials a letter alleging "knowing fraudulence or misconduct" on an SAT exam by a player on the 2007-08 team. Though the player's name is redacted from the report, it is believed to be
Derrick Rose,
who spent one season at Memphis before going on to play for the Chicago Bulls. The report does not mention Calipari by name. "We take it very seriously. We don't condone it," athletic director
R.C. Johnson
told the Commercial Appeal. "We're doing a thorough investigation." Memphis could be forced to vacate its Final Four appearance from that year, making Calipari the only coach to have forfeited two Final Fours. He forfeited his 1996 appearance with UMass. The letter was sent to Memphis on Jan. 16, begging the questions: Did Calipari know about the fradulent SAT? Did he apprise Kentucky officials of it before he was hired March 31? The report doesn't implicate new Memphis coach
Josh Pastner
, but his program faces major penalties if the report is proven true. Kentucky may not be immune, either. Penalties can follow coaches, meaning Calipari could face penalties at his new school. That wasn't the only piece of bad news for Kentucky on Wednesday.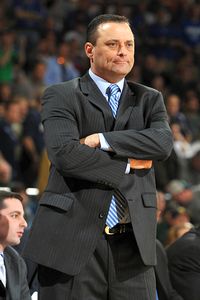 Former coach
Billy Gillispie
sued the school for $6 million
, arguing he was let go without cause.
"You can't have your cake and eat it, too, to put it quite simply," Gillispie's attorney,
Demetrios Anaipakos,
told ESPN.com. "There's a public misconception that Coach Gillispie did not sign a contract with the University of Kentucky athletic association. He absolutely did. They drafted it. He signed it. They signed it and their board approved it. Whether you're in Kentucky or Texas, a deal is a deal." In another piece of news related to Kentucky, their latest recruit, point guard,
John Wall,
pleaded guilty to a misdemeanor and entered a program for first offenders which could lead to having his record cleared. Under the terms of the plea, Wall must complete 75 hours of community service, pay court costs and program fees and stay out of trouble for the next six months. He was charged after police found him walking out of a vacant house in Raleigh. Wall and two other teenagers were cited. (The AP contributed; Photos courtesy Memphis Commercial Appeal and US Presswire)