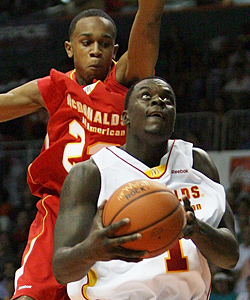 Sonny Vaccaro
has served as an advisor to
Lance Stephenson
and his family during the recruiting process and even the Godfather of Grassroots Basketball is mystified by this particular recruitment.
Vaccaro said during a
recent  interview with a Memphis radio station
that he initially thought Memphis would land the 6-foot-5 Stephenson, but now he is uncertain. "For some reason his family can't make this decision," Vaccaro said. "Last week at this time I would've thought he was going to Memphis. That was the last time I talked to 'Stretch,' that's his dad. He texted me and said they're interested in another school right now." That school is Arizona, which
Stephenson may visit in the coming weeks
. Arizona assistant
Book Richardson
is a New York native who coached Stephenson on a USA Basketball team in 2007 that won a gold medal. We reported here last night that Arizona commit
Kevin Parrom
told reporters that Stephenson was interested in visiting Arizona. "I hope he just goes somewhere and plays basketball," Vaccaro said. "I don't have an opinion, I really don't." Vaccaro did say he told the Stephenson family that Europe was not a good option for Lance. Vaccaro helped broker the
Brandon Jennings-to-Italy contract
and is currently in Greece working on
Jeremy Tyler's
deal. "I told him that I didn't think he could do it, not as a player but as a mentality," Vaccaro said. After initially saying last summer he was interested in what Jennings was doing, Stephenson has repeatedly said he won't go to Europe. "I don't think it's a good decision to go to Europe," Stephenson told the MSG Network in January. "I just want to go to college and experience new things."
Which college that will be remains to be seen.
Vaccaro flew to Greece on Sunday to begin negotiating with Greek clubs Olympiacos and Panathinaikos for the rights to
Tyler. The story was first reported by The New York Times.
Tyler is the 6-foot-11 junior center from San Diego High School who recently announced he would skip his senior year of high school to play professionally in Europe for two years before entering the 2011 NBA Draft. "Nothing's formal, very informal meetings," Vaccaro said by phone just before his plane took off. "Interest is there from a few countries, Greece, Spain, Italy and Israel."
Olympiacos signed former Atlanta Hawks forward
Josh Childress
last off-season. Billionaire shipping magnate
Panayiotis Angelopoulos,
one of the team's owners, told The New York Times last fall that he would continue to try to land a big fish from the N.B.A. free-agent market. Panathinaikos, Olympiacos' rival, won the Euroleague title last Sunday. "I have dreams every night about me playing," Tyler told The Times. "Mentally, I'm pretty ready to go out there and play. I want to show the world that this wasn't a bad decision."
QUINTRELL THOMAS CLOSE TO DECISION
Former St. Patrick of Elizabeth standout Quintrell Thomas is expected to announce soon between UNLV, St. Joe's and Siena.
"He should be making a decision in the next day or so," Derrick Bobbitt, Thomas' AAU coach, wrote in a text.
The 6-foot-8 Thomas is transferring from Kansas and has visited all three schools.
His weekend visit to Siena went well, by all accounts.
UNLV was near the top of his list the first time around and appears to be this time as well. He has spoken with head coach Lon Kruger and assistant Lew Hill, according to the Las Vegas Sun.
"As soon as I announced I was transferring, one of my [high school] coaches told me they wanted to get in contact with me," Thomas told the newspaper.
"It's a very real option," he said. Thomas spent one year at Kansas in which he averaged 1.5 points and 2.0 rebounds. Next year he would be playing behind fellow sophomores
Markieff and Marcus Morris
, returning big man
Cole Aldrich
and probably incoming freshman
Thomas Robinson
as well. (Photos courtesy Getty Images and New York Times)