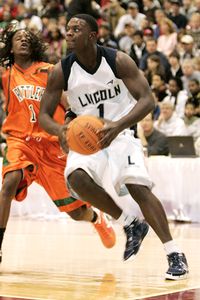 After all this time, it appears that Arizona or Memphis has as good a shot to land
Lance Stephenson
as anyone.
Stephenson, the McDonald's All-American out of Brooklyn Lincoln, has reportedly crossed both St. John's and Maryland off his list of potential colleges, which makes sense because if he hasn't committed to either by now, what is he waiting for? "At this point [St. John's is] out," a source told the Daily News. "They're not a high priority for us. Maryland coach
[Gary Williams
] embraced Lance, but for some reason that wasn't the right move." A St. John's source said the Stephenson family had not called them as of noon on Friday to dispute the accuracy of the report. Both Lance Stephenson Jr and Sr. have repeatedly said they wanted to get the young man out of New York and into a different environment. St. John's recently
got a commitment from point guard Malik Stith
, and head coach
Norm Roberts
is also waiting on several other players. By waiting on Stephenson, it could hinder his chances to land those players. "[Stith] is going to be a guy that's really going to be able to help us from the point guard position because we were depleted at that position a year ago," Roberts said. He added: "I like my team right now."
As for Maryland, sources say that Stephenson feels Williams' system would be too structured for him. There is also the concern of a potential NCAA investigation into Stephenson's
visit to the Under Armour facilities during his official visit in January
.  Under Armour is owned and operated by
Kevin Plank
, a Maryland booster.
"It was just an honest part of the trip," Lance Sr. told SLAM Magazine in its June issue. "They gave us a tour and basically that was it. They showed us how they make sneakers, we met with the academic people, the coaches…we just saw the itinerary. If it was a violation, we didn't know anything about it." Stephenson has never visited Arizona or Memphis but
Arizona has been in touch with the family
, and Memphis has also reached out, as first reported here.
Arizona assistant
Book Richardson
coached Stephenson on a USA Basketball team in 2007 that won the gold medal and he is trying to cultivate that relationship.
Richardson is also recruiting another New York native,
Kevin Parrom
, who takes his official
visit to Arizona this weekend and will decide by next week
. No official visits for Stephenson have been set to either Arizona or Memphis, but a source said, "I wouldn't be surprised if he verballed without stepping foot on campus." Despite the Daily News report that Kentucky was in the mix, a source within the Kentucky program said they were not recruiting Stephenson and that landing a point guard —
John Wall
or
Eric Bledsoe
— was the "top priority." The late signing period ends May 20, but there is nothing preventing Stephenson from announcing after that date. "[Lance Sr.] said he's not even close to making a decision," a source said. The Daily News also reports that Stephenson is due to appear in Kings County Criminal Court in Brooklyn May 19. A 17-year-old girl at Lincoln High School claims Stephenson groped her on Oct. 3 of last year.
Alberto Ebanks,
Stephenson's attorney, maintains his client's innocence.