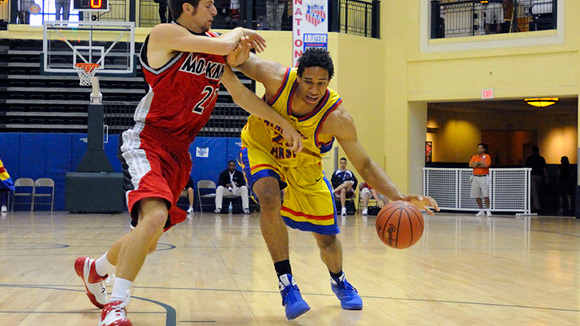 DETROIT –
While
Xavier and C.J. Henry
have received their releases from Memphis and are considering what to do next
,
DeMarcus Cousins
is in a holding pattern, waiting to make his next move in the wake of Memphis naming
Josh Pastner
as its new head coach Monday.
Carl Henry
has previously said that Xavier would like to go to Kansas, but it could depend on whether C.J. gets an NCAA waiver and is able to play immediately next year, as opposed to sitting out another year. If he does get an NCAA waiver to play immediately, the brothers could potentially play together at Kansas or Kentucky. If not, Xavier could go to Kansas or Kentucky and C.J. would remain at Memphis. Carl said that as of Tuesday morning he hadn't spoken with Pastner since the 31-year-old was named head coach Monday. "I spoke to him a couple times trying to get the releases but I haven't talked to him since he became head coach," Carl said. Asked if Xavier might want to stay and play for Pastner, an assistant under former Memphis coach
John Calipari
, Carl said: "I don't know. I haven't spoken to him. I"ll see him later today at practice. I'll talk to him then." If Xavier does end up at Kansas or Kentucky, Brooklyn's
Lance Stephenson
could go to either St. John's or Maryland
. Sources at St. John's said they were hopeful but hadn't heard anything definite as of yet.
As for the 6-10 Cousins, he orally committed to Memphis but didn't sign.
Otis Hughley
, Cousins' high school coach at Mobile (Ala.) LeFlore, said Cousins was still huddling with his mother, who works on the weekends. "I called and told him [Pastner was the new coach] and  he was like, 'For real?' He was just surprised," Hughley said Tuesday. "I'm sure it's going to effect what he's going to do." Just exactly what that is, Hughley doesn't know. Cousins could remain at Memphis, follow Calipari to Kentucky (Cal has reached out to him) or pick another place, such as Alabama, Kansas State, N.C. State or Washington. "He's just deliberating with his mom and once they get together and decide," Hughley said, "it's gonna go fast." (Photo courtesy ESPN.com)