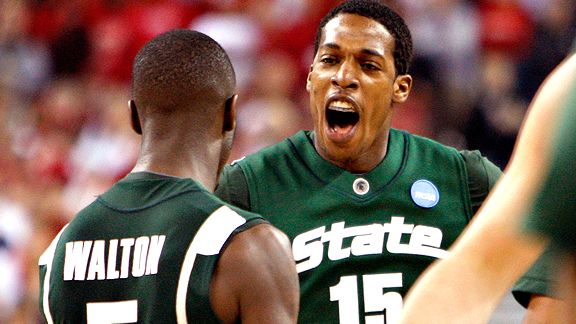 So much for three Big East teams making the Final Four.
No. 2 Michigan State came out and just gave it to No. 1 Louisville 64-52 behind 19 points and 10 rebounds from
Goran Suton
in the Midwest Regional final in Indianapolis.
Durrell Summers
added 12 points for the Spartans. "I take my hat off to my players," Spartans coach
Tom Izzo
told CBS. "They prepared so well the last day and a half. And we played well and that is a great Louisville team. I didn't know if we could beat them. But I thought we had a chance if we checked them and we checked pretty good and Goran Suton made some shots." Michigan State, buoyed by the presence of
Magic Johnson,
will face UConn in one national semifinal while Villanova will meet either North Carolina or Oklahoma.
Earl Clark
had 19 points for Louisville, the overall No. 1 seed in the NCAA Tournament. The Cardinals got a combined five points from
Terrence Williams
and
Samardo Samuels.
"We had a very difficult time playing against their man," Cards coach
Rick Pitino
said. "We wanted to go inside to out but they're very experienced at the five spot.
They did some good things. So they deserve all the credit with an outstanding victory."
There won't be a repeat of 1985 when the Big East sent three teams to the Final Four. "Detroit here we come," said Izzo, who has now made five Final Fours. "I can't tell you how much I'm looking forward to that."