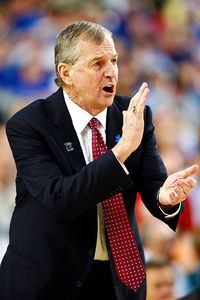 If UConn wins its third national championship under
Jim Calhoun
, will the coach consider retiring?
"I don't know,"
Calhoun told ESPN.com
. "I'm going to have to think about it." As Gene Wojciechowski points out in his column,  Calhoun has been through the ringer this year: cancer treatments,  a season-ending injury to guard
Jerome Dyson,
the infamous salary postgame drama with a blogger, missing UConn's opening-round tournament game against Chattanooga because of dehydration. And now he has to deal with this NCAA investigation brought about by the Yahoo! Sports story detailing UConn's alleged violations in the recruitment of guard
Nate Miles.
"Could I have made a mistake? 
Sure," said Calhoun, whose No. 1 Huskies face No. 3 Missouri today in the West Regional final. "The [rules] manual is 508 pages. Someone could've made a mistake." If the Huskies win today and get to the Final Four, and especially if they go on to win the national championship, it might be the perfect time for the 66-year-old Calhoun to exit stage left. Several of his stars are leaving for the pros:
Hasheem Thabeet, Jeff Adrien
and
A.J. Price.
The NCAA has already begun investigating the alleged recruiting violations at UConn. And don't think Calhoun hasn't made his share of enemies over the years. Those enemies could make life hard for him during this investigation. On the other hand, what's a basketball lifer like Calhoun going to do away from the court? Play golf and hang around the house? We've heard too many stories of coaches trying that for a few months, only to reverse course and come back.
Look at
Rollie Massimino
. The man is 74 years old and still coaching. When I asked him last week how long he planned to keep on coaching, he said. "I don't know, till I die." Maybe Calhoun will follow that same path. Or maybe he should get out before the oven gets too hot.
HITTIN' THE LINKS: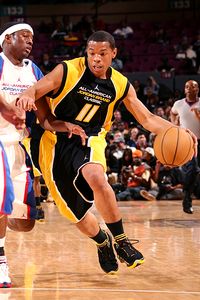 **Alabama hired former VCU coach Anthony Grant. Grant is a good man and a rising star. He was an assistant on last summer's U18 team that featured
Kemba Walker
and
Dominic Cheek
and reached the final of the FIBA Americas U18 Championship in Argentina.
**Pete Thamel on how the "
Big East is Flexing its Muscles in Boston College's Backyard
." There's certainly a fair share of irony in the fact that tonight's all-Big East final between Pitt and Villanova is being hosted here in Boston by ACC turncoat Boston College. **Tremendous work by Dana O'Neil on this story about
Villanova guard Corey Fisher and his notorious former gangster uncle Guy Fisher
.
**
Jay Wright has been behind the Eight ball by Bob Ryan
.
Ryan talks about how Villanova has never been to the Final Four under Wright and how he's handled that.
(Photos courtesy ESPN, Kelly Kline)