Lance Stephenson
says he's already chosen his college, and at this point all signs indicate he'll end up at Kansas.
Based on numerous interviews, Stephenson's comments in recent days and the history of his recruitment, it's a safe bet that he ends up in a Jayhawk uniform next season. Lance says it was between Kansas, Maryland and St. John's, but several sources said Maryland is not in the picture and one source very close to the decision-making process said Kansas is a heavy favorite. "He really wants to play for
Bill Self,
" a separate source close to Stephenson told Zach Smart of the
NBE Basketball Report.
"They went pretty hard, he had a great visit, and they essentially sent [former NBA player]
Danny Manning
as the
Mariano Rivera
in this situation to close the deal." The source added: "Lance understood the magnitude of this decision. He flirted with the idea of revitalizing the
St. John's program and sort of sprouting into a New York City icon by putting SJU and New York City back on the map. But realistically, he wants to win at a big-time program and Kansas is a perfect fit for him." St. John's head coach
Norm Roberts
and assistant coach
Fred Quartlebaum
have put in a tremendous amount of work on this — and they are to be applauded for that — but St. John's still hasn't landed an official visit from Lance.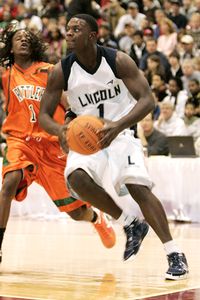 As for Stephenson's
recent controversial visit to Maryland and the nearby Under Armour facility
, sources said that was born out of a favor to
Kris Stone,
who has a relationship with the Stephensons from his time at the Boost Mobile Elite 24 and now works at Under Armour.
LANCE WANTS TO WIN
Say what you will about Lance, but he wants to win. Ever since the 7th grade, he wanted to break
Sebastian Telfair's
New York State scoring record and he was driven to win more PSAL titles than Telfair, now with the NBA's Minnesota Timberwolves. As of Saturday, mission accomplished. Lance, averaging 32 points and 13 rebounds on the year, is the all-time leading scorer in New York history and after posting 24 points, 10 rebounds and five steals in a 78-56 win over Kennedy, he's now won an unprecedented four straight PSAL titles. Stephenson told reporters the other day at the Madison Square Garden press conference, "I just want to have a chance to win the [NCAA] tournament, so I'm picking [a college] by that." Kansas is the defending national champion and after Sunday's win over Dayton, the Jayhawks are into another Sweet 16. Although
Lance has often said he likes playing in the Garden and would like to bring St. John's back
, his recent comments would appear to indicate that winning is his paramount priority. When asked about St. John's chances of winning the tournament, he told reporters: "I don't want to talk about college no more." When one intrepid reporter asked Stephenson Saturday if f he had played his last game at the World's Most Famous Arena, Lance said according to The New York Times:
"Maybe I'll get drafted to the Knicks, who knows? If I keep playing hard and pick the right college and show my talent, I think I'll be here again."
If he won't play at the Garden again until he's on the Knicks, he's not likely to suit up for the Johnnies.
THE DANNY MANNING FACTOR
After striking out on
Xavier Henry
and
Dominic Cheek
, Kansas desperately needs a wing next year and Coach Self
has been involved in Stephenson's recruitment for an extended period. He sat courtside with a Diet Coke when Lincoln played Duncanville (Texas) on ESPN earlier this year. Stephenson and his family took an official visit to Kansas last month for the team's victory over Nebraska. By all accounts, the visit went well. "The visit was fun," Stephenson said. "I didn't know it was going to be like that. The crowd was good to me and my family and I felt comfortable there and I'm just looking forward to see where I can fit into that program." "I'll be back," he told Matt Scott of TheShiver.com.
Then you factor into all of this
Manning's
evolving relationship with the Stephenson family and Kansas' history in his recruitment, and it seems to cement the deal.
Manning won the 1988 NCAA title with Kansas and was then drafted No. 1 in the NBA Draft by the Los Angeles Clippers. Last year alone, Kansas sent five players to the pros. Manning has been a regular fixture at Stephenson's games in recent weeks, and would seem to be the ideal role model for a young man looking to one day play in the NBA. "Danny Manning, I look up to him a lot," Stephenson told me last week. "He's a great player and a great assistant coach so I think he's good."
THE STRETCH FACTOR
Lance's dad,
Lance Stephenson Sr.
, known as "Stretch," has been actively involved in his son's recruitment from Day One. And from Day One he has repeatedly said that he wants to get his son out of New York and that he wants to get away from the "hate"  factor in New York. "One thing we're looking for is a place [different] from New York City," Stretch told me a while back. "The approach going toward college is to find a nice place that's excited about basketball but at the same time that's cozy and secluded which is going to be tough to find." Kansas fits this bill. "Coach Self talked about how secluded it is, and how the college rules the town," Stretch told me. Now the complicating factor here is that Kansas doesn't actually have a scholarship to give Stephenson. With
Thomas Robinson
and
Elijah Johnson
committed for next year, and Arizona transfer
Jeff Withey
suiting up, the Jayhawks would have 14 scholarship players. With Lance, that would be 15.
Kansas would need both
Sherron Collins
and
Cole Aldrich
to go pro, or somebody to give up their scholarship, to enable Lance to have one. Of course, these things often have a way of working themselves out. Stephenson will make his announcement at the McDonald's All-American Game March 31 or April 1. Look for him to pick the Jayhawks.