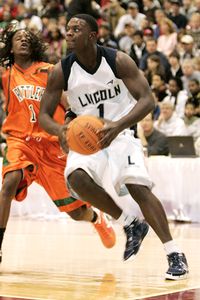 Lance Stephenso
n had a triple-double and Maryland-bound forward
James Padgett
posted a double-double to lead three-time defending PSAL champion and top seed Lincoln High School to a 101-72 victory over No. 16 Thurgood Marshall Academy.
The 6-foot-5 Stephenson, ranked No. 1 in the Class of 2009 by Hoop Scoop and No. 9 by Rivals, posted 39 points, 12 rebounds and 10 assists and the 6-8 Padgett tallied 21 points and 13 boards. Lincoln will meet No. 9 Transit Tech in the quarterfinals
on Saturday at 5 p.m at St. John's
. Tech downed No. 8 Wadleigh 70-69. Stephenson is considering Kansas, Maryland and St. John's and has taken official visits to KU and Maryland. St. John's is trying to set up an official with him. Elsewhere,
David Coley
and
Keith Spellman
returned from injuries to lead No. 3 Jefferson
to an 86-52 rout of Campus Magnet.
Also, No. 10 McKee/Staten Island Tech upset
Ron Naclerio's
No. 7 Cardozo team, 76-73,
in double OT in other quarterfinal action
.
**Read the full story about the sneaker war over Stephenson here
. **
Watch the video interview with Lance here
.