Arsalan Kazemi,
a 6-foot-7 combo forward from The Patterson (N.C.) School, has set his schedule of visits.
Kazemi, who took the SAT recently and expects his test results Oct. 23, will visit Seton Hall next weekend (Oct. 24), Rice (Oct. 31) and Maryland for a scrimmage against Northwood University Nov. 8. "The scores are going to come out on the 23rd. The next day we'll take a trip to Seton Hall," said
Anthony Ibrahim,
Kazemi's adviser. "Rice on Halloween and after that Maryland for a scrimmage." Kazemi, a native of Iran hoping to become the first man from his country to play American college basketball, had originally hoped to visit Maryland for tonight's Midnight Madness, but his test score did not come in time. Ibrahim said several other schools are still in the mix, although no visits have been set. "We've had talks with Memphis, Colorado, Cincinnati, Western Kentucky and Virginia Tech," he said. "They're really on us now. All these others are fighting for the visits." Ibrahim said it was possible Kazemi could take one or two more visits before the end of the early signing period, which runs Nov. 12-19. Meantime, Ibrahim said Memphis assistant
Josh Pastner
wants Kazemi to wait until the spring and is pursuing Kazemi hard. "Josh Pastner called me yesterday and this morning," Ibrahim said. "He said, 'Don't sign early.' They're very interested." Still, Ibrahim wants Kazemi to be a "program-changer," not just a "glue guy." "We're trying to get it done by the fall," Ibrahim said. Patterson played Oak Hill this past week in the fourth annual Battle of the Blue Ridge and recruiting expert Bob Gibbons of ESPN came away impressed with Kazemi.
"One of the most all-around talented players was Patterson's 6-8 Sr. P/WF Arsqlan Kazemi, a native of Iran," Gibbons wrote. "Kazemi has the ability to score from inside or out, has excellent ballhandling and passing skills, and was very effective on the boards. He is a slasher with impressive dribble-drive moves to the hoop. He has a superb feel for the game and is a good offensive rebounder. On hand to watch Kazemi last night were Maryland, Seton Hall, Wake Forest, Memphis, and others."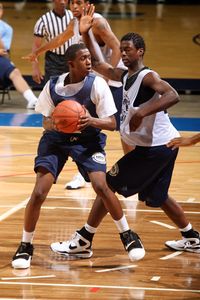 Gibbons
also has observations on New York products
Vincent Council, Lamont "Momo" Jones
and
Doron Lamb
.
Council had 15 assists and 11 points for Patterson over the two 20-minute games. Jones posted 29 points, 8 assists and 4-of-7 3-pointers for Oak Hill Lamb tallied 13 points in the second period for Oak Hill.