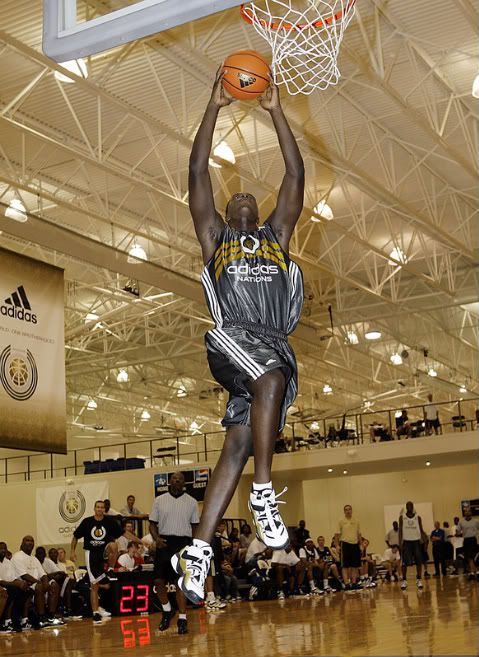 Some quick hits on a Friday evening in the summer… **Information on
Lance Stephenson's
recruitment has been hard to come by in recent weeks, but Lance is reportedly high on Kansas, Memphis, USC and Texas. His father has also mentioned St. John's and UCLA. No visits have been set as far as we can tell, although Lance has unofficially visited USC, UCLA and St. John's.
He also told me
he'd consider going to Europe
a la
Brandon Jennings
. Lance is coming off a
34-point outburst in the final of the adidas Basketball Experience
in Dallas. We should hear more about his recruitment next week at the
Boost Mobile Elite 24 event
at Rucker Park. **Evan Daniels of Scout reports that
Derrick Favors
final 10 include Georgia, Georgia Tech, Florida State, Memphis, UCLA, Kentucky, Florida, Kansas and N.C. State.  We wonder if Indiana will try to get involved now that
Roshown McLeod
has been hired by Tom Crean
. The consensus seems to be that Favors will stay close to home in Georgia. **Insidetheville.com reports that
Tobias Harris
will attend the Louisville-Kentucky football game. The 6-foot-8 Harris has already been to Louisville once and will attend the game with his family. He holds a slew of offers,
including a recent one from USC
.
**
Mike and The Mad Dog
are no more. After 19 years of highly colorful, sometimes maddening, New York radio,
Chris Russo
is leaving his former partner,
Mike Francesca
,
possibly to go to Sirius
. "I have four or five options," he told Newsday. "Sirius would be one of them … Obviously, I'm not stupid. I'm not going to leave FAN unless I have something relatively secure." Personally, I've become more of a fan of ESPN in New York, especially
Michael Kaye
. Although I did find it strange that Kaye told
Scott Van Pelt
he's never eaten salad dressing, fish or condiments of any kind. How do you get to be a middle-aged man in New York and not eat any of those things?
**Two former Seton Hall guard players signed contracts overseas.
Andre Barrett
 will play with FC Barcelona and 
Jamar Nutter
is headed to play professionally for the Bakken Bears, the two-time Danish champ . 
Barrett, a Bronx native, played a total of 67 games for
Houston
,
Orlando
,
Phoenix
,
Toronto
,
Chicago
and the Los Angeles Clippers.

  

He has also played for
Florida
,
Bakersfield
and
Austin
in the National Basketball Developmental League.
Nutter was a 
mainstay in the Pirates' starting lineup for the last three years, making 80 starts and playing in 115 career games.  The fifth-year senior averaged 10.9 points last season and hit a career-high 29 points vs.

Morgan

State

on January 5.
**Roger Federer's tough year continued at the Beijing Olympics when he was upset by James Blake in the quarterfinals. Blake had never beaten Fed before.
Blake then blew triple-match point against Chile's Fernando Gonzalez in the semifinals.
The match was not without controversy, though.
Gonzalez will meet French Open and Wimbledon champ Rafael Nadal of Spain for the gold medal after Nadal knocked off Novak Djokovic in the other semi, 6-4, 1-6, 6-4. Gonzalez will meet French Open and Wimbledon champ Rafael Nadal of Spain for the gold medal after Nadal knocked off Novak Djokovic in the other semi, 6-4, 1-6, 6-4. 
Federer can still win a gold medal in doubles.
He and Stan Wawrinka combined to stun the top-seeded American Bryan brothers, 7-6 (8-6), 6-4 to earn a medal spot in the doubles final.
Both Williams sisters are also out in singles.