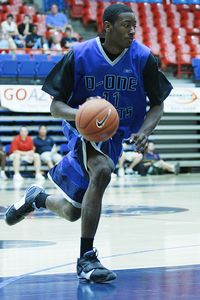 As the head coach at Word of God Academy in Raleigh, N.C.,
Levi Beckwith
will preside over a team with several potential future pros, including
John Wall
, the No. 1 player in the Class of 2009 according to Rivals. I caught up with Levi today for an interview and here are his thoughts on a few subjects, including Wall's recruitment, 6-foot-9, 290-pound
Keith "Tiny" Gallon
and his goals for the season.
AZ:
Is
Keith "Tiny" Gallon
going to play for you this upcoming season?
LB:
His mom has contacted us and we have contacted (Oak Hill) coach (
Steve) Smith
to let him know they contacted us and everything, so I know he's interested in coming. I know she has called our office to get the paperwork, so I know that his paperwork is being processed at this time.
AZ:
So is it just kind of a formality of his paperwork being processed?
LB:
I hope so. (laughs)
AZ:
Where does John Wall stand with his recruiting? A lot of people figure he's going to go to Baylor now? Is he still wide open?
LB:
Yeah, I think he's real wide open. He'll probably take anywhere from three to his five visits in September, and of course I'm sure one of them will be Baylor.
AZ:
Do you have any sense for what other schools he'll visit? He's also mentioned Memphis, N.C. State, Kentucky, Kansas and Oregon.
LB
: I think he's still looking at Kansas as well. I know Oklahoma State got a commitment from a guard last week, so I know that was one of his concerns as far as Oklahoma STate was concerned.
AZ:
What is your take on Baylor hiring
Dwon Clifton
(Wall's AAU coach)? Is that going to influence John one way or another?
LB:
If it's even, then I'm sure it will probably make a difference. I think if John goes on these visits and really feels comfortable with the head coach, then that will be the school he chooses. I don't think that John is talking to other people just to be talking to them.
AZ:
Do you guys have any timetable in mind as far as when he decides?
LB:
No, from my standpoint, once he takes these visits, for him to go back and take another visit and the top two places, that's the thing I want him to do. Take these visits, narrow it down two, then narrows it down to two more and then maybe either go out there again or do something where he can go ahead and make a final decision. I'm thinking that will probably be sometime in September.
AZ:
There are rumors floating around that
LaQuinton Ross
might go to Word of God, is that true?
LB:
I saw a YouTube thing saying he was coming, but at last that I have checked he has not registered. I know that he was looking at a couple of different schools, Oak Hill, Montrose Christian, a couple of different schools.
AZ:
What events will you be attending this upcoming season?
LB:
We're going to the City of Palms tournament in Florida. We're going to a tournament up in Missouri Jan. 15. We're playing in about four or five states.
AZ
: Will there be a lot of pressure with so many good players?
LB
: Some guy told me that if you get all those guys, what are you going to do with them? And I asked myself, 'What does Oak Hill and all the other top teams in the country when they have four or five players?' And the guy said, 'Well, they have a few problems,' and I said, 'Well then we'll have a few problems too, then.'
We already have John and we already have
CJ Leslie
. I would hope that people will not try to come to join the team with John and CJ on it and think they're going to take over the team. I would think that they would come and just want to be a part of what we got going on.
AZ:
What are the team's goals for the season? Is your goal to be the No. 1 team in the nation?
LB:
Definitely, I think John said that when he goes to college, one of his goals was to join a team that wins a national championship. So one of the things that we're going to do with him this year is to try to get his goal on that right now, as far as winning the high school national championship. The biggest thing, other than winning a national championship, is to get these guys to come together and be unselfish and play as one. We do have anywhere from three to five potential pro players on this team and even when you go to college, you're going to play with good people, so let's go ahead and learn how to play with good people right now.
AZ:
Who are the other pros?
LB: Bishop Daniels
, a sophomore who transferred in. We got another kid who was there last year,
Dezmine Wells
, he's about 6-3, been playing some point guard. Kind of reminds me of a  young
PJ Tucker.
AZ:
How does your schedule look
?
LB:
WE definitely still have about six or seven open dates. Obviously there are a lot of states that are trying to get us to come for a game.  
AZ:
Up here in New York and New Jersey we have Lincoln, St.  Anthony, St. Patrick and St. Benedict's.
LB:
See what you can do for us!