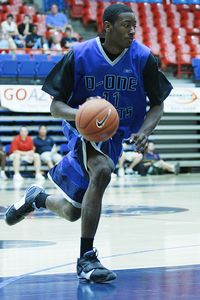 Dwon Clifton
has been hired as Director of Player Development at Baylor. Can
John Wall
be far behind?
Clifton was the head coach for Wall's D-One Sports Basketball 17 and under travel team. He spent two years at Clemson in the early 2000s when current Baylor assistant coach
Matt Driscoll
was a member of the Tigers' staff "We're pleased that Dwon Clifton will be joining the Baylor family," Baylor head coach
Scott Drew
said. "His professional playing experience and ability as a former player to relate to young student-athletes make him a great addition to our staff. "Having coached Dwon and then following his career after Clemson it is nice to be able to mentor him in a profession that he really wants to pursue," Driscoll said. "With his wife Lucinda and son Kingston joining our family it will make for an easy transition to begin his career." Dwon had offers from several Big 12 programs and many other conferences, but chose to reunite with his former coach. "I had interest from numerous other schools but what's unique about the opportunity at Baylor is my tie with Coach Driscoll, who recruited me to play at Clemson out of high school," Clifton said. "I have tremendous respect for Coach Driscoll and his work ethic that he's always displayed. Even now, his work ethic is the same as I remember, he's the same person." The 6-foot-4 Wall, out of Raleigh (NC) Word of God Christian, is the No. 1 player in the Class of 2009, according to Rivals. He is expected to make his college announcement early next week, and it appears that Baylor is now the obvious choice.
"At Rivals, we think he's the best player in the country," Jerry Meyer of Rivals
told NewsOk.com
. "And over the course of this summer, we think he just widened the gap. He's the most unique talent I've seen since I've scouted." Oklahoma State, Kansas, Kentucky, Memphis, Oregon, North Carolina State, Southern California and Texas had also been on Wall's list. Wall has been compared to numerous players, including
Derrick Rose
and
Jason Kidd.
"He's not quite Derrick Rose, but I can see why some might make the comparison, because he's big and strong and fast and athletic and all the things you want your point guard to be," Gary Parrish of CBSSportsline said. Wherever he goes, it likely won't be for long. Wall says he plans to be one-and-done or two-and-done for college in order to help support his family, including his mom and two sisters. "My dad (John Sr.) passed when I was 10," Wall told SI.com. "After he passed, I was the man of the house. I realized I wanted to go somewhere and get my family in a better situation." "If I go one-and-done or two-and-done," Wall added, "I'm going back to school and finish regardless. I promised it to my mom."