Have to take a break from hoops to get into this
Madonna/A-Rod
story, which is too juicy to pass up. A-Rod's wife,
Cynthia Rodriguez
, is
filing for divorce because of his extramarital affairs
. While she has been linked to rocker
Lenny Kravitz
, A-Rod has been keeping company with Madonna, who claims they are just friends. "My husband and I are not planning on getting a divorce," Madonna said. "I know Alex Rodriguez through
Guy Oseary
, who manages both of us. I brought my kids to a Yankee game. I am not romantically involved in any way with Alex Rodriguez. I have nothing to do with the state of his marriage or what spiritual path he may choose to study."
A-Rod, by the way, hit his 536th career homer tonight against the Red Sox, tying him with
Mickey Mantle
for 13th on the all-time list.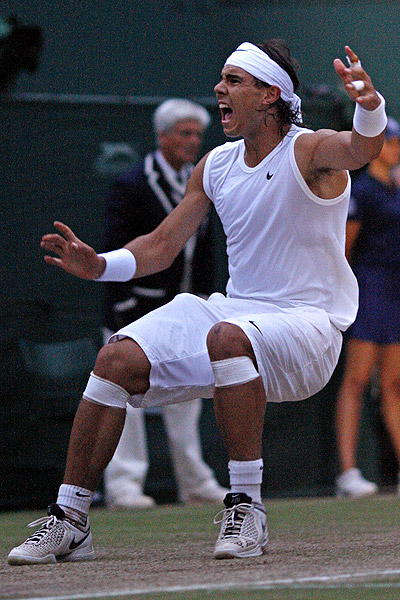 And I hope many of you got to watch that epic
Roger Federer-Rafael Nadal
five-set Wimbledon final today won by the Spaniard at 9-7 in the fifth. I have been playing and watching tennis all my life, and this may well have been the
greatest match I've ever seen
. The 1980 Wimby final between
Bjorn Borg
and
John McEnroe
is the only one that comes close. Nadal became the first man since Borg in '80 to win both the French Open (on the red dirt) and Wimbledon (on grass) in the same year. He also prevented Fed from breaking Borg's modern-day mark of five straight Wimbledon titles. How about this stat? These guys have already met in more Slam finals (6) than any duo ever, and Fed is only 26 and Nadal 22.
Pete Sampras
and
Andre Agassi
squared off in five Slam finals, as did
Mats Wilander
and
Ivan Lendl
. Borg faced
Jimmy Connors
four times, and Borg and Mac also met in four finals.