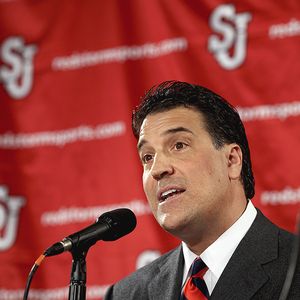 Steve Lavin
is expected to sign an extension at St. John's that goes beyond the remaining two years on his current deal. It remains unclear how long the extension would be for, and sources said a report that it would be six years is not necessarily accurate. In January,
SNY.tv quoted Lavin as saying he wasn't going anywhere, and at that time the extension was in play
. "Steve is coming to the end of the fourth year in his initial six-year contract and it is an appropriate time to discuss an extension. We have certainly had preliminary talks and look forward to revisiting the matter at the conclusion of the season," said 
Chris Monasch
, St. John's Director of Athletics. "We are pleased with the progress our basketball program has made," Lavin said. "I look forward to being the coach at St. John's for the long-term. At this point our full attention is on having a strong finish to this season, which in turn will help our recruiting efforts as we move forward." Lavin signed a six-year deal initially worth $1.85 million annually when he came aboard in 2010, sources told SNY.tv. He currently makes over $2 million in that first deal, and he could stand to make more with the extension. He has led the Johnnies (19-11, 9-8 Big East) to once NCAA Tournament appearance and currently has St. John's on the bubble for a second trip. St. John's visits Marquette Saturday and must do additional damage in next week's Big East Tournament.
Follow Adam Zagoria on Twitter
And like ZAGS on Facebook