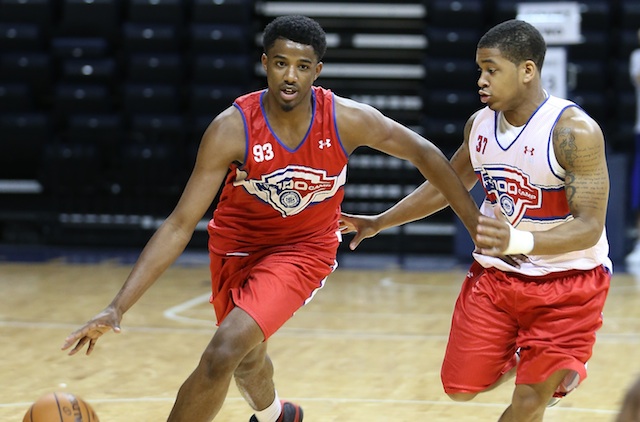 JaQuan Lyle
 has a top four and will take two officials in the next week and another in March. He then plans to make a decision over spring break March 15-23, he confirmed to SNY.tv after previously telling Grant Traylor of the Huntington Herald-Dispatch. "My four is Oregon, Oklahoma State, Kansas and Memphis," he told SNY.tv.
"If I'm not sold on one of those schools, I will take another visit to either Providence or Georgetown. "I go to Oklahoma State this weekend, Kansas on Monday and Memphis March 7." Oregon head coach
Dana Altman
and assistant
Tony Stubblefield
are also expected to visit with Lyle's mother on Thursday in Evansville, Ind., before they watch Lyle and Huntington Prep play later in the day. "Yes, they are coming for my game tomorrow and going to see my mom," Lyle said. The 6-foot-5 Lyle has already visited Oregon and will visit Oklahoma State Friday-Sunday and Kansas Monday-Wednesday. Lyle turns 18 on Monday.
Oklahoma State has pitched that Lyle could potentially replace
Marcus Smart,
while
Kansas needs a combo guard and Lyle is tight with incoming Kansas big man Cliff Alexander
. "Me and Cliff, we've been tight since about our eighth-grade year and our relationship just grew, so now he's like a brother to me," 
Lyle told SNY.tv
. "Just the opportunity to play with him would be wonderful. Cliff makes me better, I make him better. Every big man  wants a point guard who can get them the ball in the right place that they can score, make the job easier for them. And every point guard wants a big man who can get them open and get them an opportunity to make them look better." No visit date for Providence has been finalized, Lyle's mother told SNY.tv. Photo: Kelly Kline/Under Armor
Follow Adam Zagoria on Twitter
And like ZAGS on Facebook