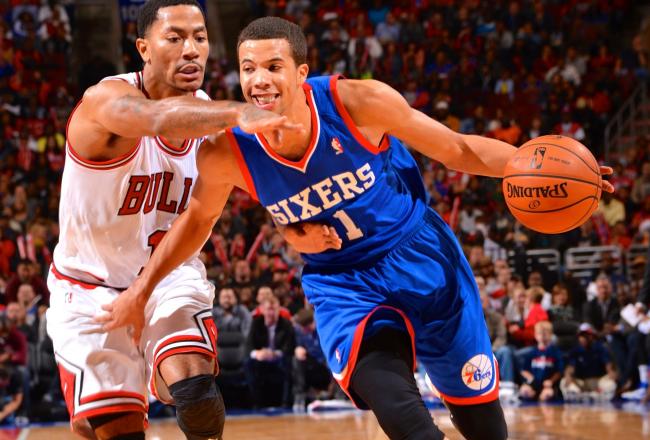 NEW YORK
— The most impressive Syracuse product in the early stage of this NBA season isn't
Carmelo Anthony.
No, it's Philadelphia rookie
Michael Carter-Williams,
who is averaging 20.7 points, 9.0 assists and 4.7 rebounds for the first-place Sixers. "I always liked him," Anthony said Sunday before the Knicks hosted Minnesota at MSG. "I've been telling people all along that whoever gets him was going to get a steal.
"The first couple games he's proven that and he's only going to get better in my eyes." Asked if Carter-Williams was now the best Syracuse player in the NBA, Anthony smiled and said, "He can have the torch, I don't have no problem passing the torch." If the Sixers are tanking the season in order to get
Andrew Wiggins
or
Julius Randle
in the Draft —
as one NBA executive told SNY.tv was the case
— nobody has informed Carter-Williams, who left Syracuse after his sophomore season. He's had two double-doubles in three games and one near quadruple-double when he put up 22 points, 12 assists, nine steals and seven rebounds when the Sixers beat  the two-time defending NBA champion Miami Heat on opening night. Carter-Williams is already thinking about Rookie of the Year honors. "I think I have a pretty good chance at it," he said,
according to Alex Kennedy of HoopsWorld
. I'm just going to go out there, play my game and hope for the best." He added: "I think I can be as good as I want to be. I know what I need to do and I'm going to put in the work, so hopefully I can be great." As for the tanking plan, maybe it won't actually happen. "We understand what everybody has said and written about us," first-year coach
Brett Brown
said after his team beat Chicago Saturday to move to 3-0. "Our guys have put in the day-to-day stuff, which has always been our message. I'm lucky I've found a group that enjoys each other's company, and they enjoy playing together."
Follow Adam Zagoria on Twitter
And like ZAGS on Facebook