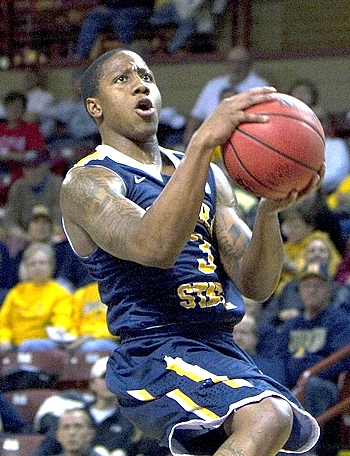 GREENBURGH, N.Y. –
– A native of Biloxi, Miss., 
Isaiah Canaan
 had never been to New York City before arriving here for a workout with the Knicks. "This is my first time," the 6-foot former Murray State star said Wednesday after the workout. "I flew in at night time and that was one of the best things I've seen. I was amazed just flying in at night time, but wherever I'm at, I'm going to be blessed. This is a great honor."
The Knicks need a backup point guard now tha
t Jason Kidd
 has retired and should have some decent options with the No. 24 pick in the June 27 NBA Draft.
Canaan, who averaged 21.3 points and 4.3 assists last season for the Racers and models his game after 
Chris Paul's
, was well aware of the Knicks' needs as he battled former Syracuse guard 
Brandon Triche.
"It felt real good, especially when Jason Kidd hung up his shoes, so it's a great opportunity for me personally to showcase that I can come in and play, and if they need me right away, I can do that also," Canaan said after the workout, which was not open to the media. "You can learn from a guy like
 Raymond Felton
 and 
Carmelo [Anthony
], so it's a great opportunity for me to come in and know that they need a guard. It motivated me to go out there and want to do well." Canaan is projected as the No. 48 pick by DraftExpress.com, but his agent, 
Mark Bartelstein,
 said he will work out for virtually everyone from the end of the lottery to the early 20s. This week alone, he worked out for the Indiana Pacers Monday and will visit the Cleveland Cavaliers Friday. Next week he has the Phoenix Suns, the L.A. Clippers, the Dallas Mavericks and the Utah Jazz. Canaan averaged 19.0 points as a junior and 21.8 as a senior but he said he can play whatever role a team needs. "A lot of people might think I'm just a scoring guard, but I can do whatever I'm asked to do, and I like winning," Canaan said. "In order for us to win at Murray State, I had to score the basketball, so that's what I was forced to do. But, like I said, if I have players around me that they pay a lot of money to score the basketball, I don't have a problem doing that as well. I'm all about winning. Whatever I have to do to win, I'll go out there and do that." Because of his diminutive height, Canaan has drawn comparisons to 
Chris Paul
 and 
Jameer Nelson.
 He said he knows Paul, the object of Knicks' fans fantasies, pretty well from time at his camp. "I just picked his brain throughout the season, talked to him, tried to go to games when I could and he's a great guy on and off the floor," Canaan said. "He's a competitor and we kind of do some of the same things. He can pass the ball very well, I can do that, he shoots the ball and can score when he wants to, I can do that as well. And we're the same height. It's just more motivation for me to see that he can do the things that I want to be able to do and do it at a high level. One day, I want to be able to do some of the things, if not better, than he did throughout his career."
Follow Adam Zagoria on Twitter
And like ZAGS on Facebook