Tony McIntyre
still remembers the day that his 7-year-old son,
Dylan Ennis,
was winning a blowout basketball game for the Brampton (Ontario) Blue Devils and one of the officials jokingly suggested they "put the little kid in." The "little kid" was 5-year-old
Tyler Ennis.
"We put him in and he subbed into the game and kind of watched and played along," recalled McIntyre, the boys' father and longtime coach with the CIA Bounce AAU program. "It started out as a joke and then it was like, 'Hey, he can actually play here.'" The Ennis boys' basketball careers have now progressed to the point where each will play for an undefeated team on Saturday at 2 p.m. when Dylan and No. 8 Villanova (11-0) visit Tyler and No. 2 Syracuse (11-0). That game will precede No. 6 Louisville visiting No. 18 Kentucky at 4 p.m. Both games are on CBS. "They never played each other, so this is the first time," McIntyre said with a laugh of the Tyler vs. Dylan showdown. So how does it feel to be the father of two sons who are a combined 22-0 with the calendar about to turn to 2014? "It's amazing," he said. "It's just a testament to those teams' hard work and those guys' ability to fit into what their teams expect of them." McIntyre said so many family and friends were interested in attending that game that he would have to somehow score 30-50 tickets. And those folks won't be seeing benchwarmers, either.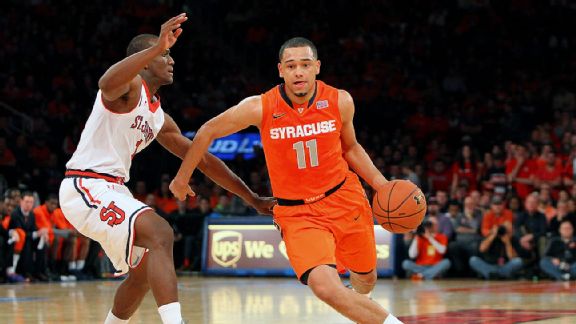 A 19-year-old freshman point guard, Tyler is averaging 12.1 points, 5.4 assists and 3.3 rebounds for the No. 2 Orange. A sophomore guard, Dylan, who turns 22 on Thursday, is averaging 9.1 points, 3.4 rebounds and 3.1 assists for the No. 8 Wildcats. Each has been a major reason for his team's success. After Tyler went for 21 points, 6 assists and 3 rebounds in Syracuse's 68-63 win over St. John's last Sunday,
Syracuse coach Jim Boeheim sai
d: "He's a very, very smart player. As a freshman point guard, he's playing better than anybody I've ever had and I've had just a few pretty good freshman point guards [
Pearl Washington, Adrian Autry, Jason Hart and Gerry McNamara
]. "He's really been unbelievable. If he played like a normal freshman, we'd be about 7-3 probably right now."
Dylan, meantime, averaged 12 points when Villanova won the Battle 4 Atlantis, knocking off Kansas and
Andrew Wiggins,
Tyler's former CIA Bounce teammate, and Iowa en route to the title. "Dylan gives us more of the type of guard that we had in the past," Wildcats coach Jay Wright
told Jon Rothstein of CBSSports.com
. "He's quick, bouncy, and jet-like. It's not that the other guys we have aren't good. Dylan's just a little different, and more in the mold of what we've had here before." The Ennis brothers are part of a larger wave of ascendant Canadian talent that includes
Tristan Thompson
, the No. 4 pick in the 2011 NBA Draft and a former Brampton Blue Devils teammate of the Ennis brothers. "It was kind of a three-headed approach with those guys where each of them brought something different," McIntyre said. Of course, the Canadian wave also includes 
Anthony Bennett
, the No. 1 pick in the 2013 NBA Draft, Wiggins, the potential No. 1 pick in 2014, Gonzaga junior guard
Kevin Pangos
, Boston College sophomore guard
Olivier Hanlan
, UNLV junior forward
Khem Birch
and others. "It's just amazing that they're able to work on their game here and develop and then be able to walk in and be able to be major contributors at these top universities down in the States," McIntyre said. Dylan and Tyler are home in Canada this week for Christmas — and unavailable to the media until later this week. Still, the brothers are living, eating and training together this week. When they attended the CIA Bounce holiday party Monday night at a banquet center in Toronto, McIntyre said there were a lot of questions for the brothers. "Basically everyone's just asking them, 'Who's gonna win? Who's got the better team? Are you guys gonna guard each other? How are you gonna guard each other?" he said. As for the breakfast and dinner conversation around the household this week, the Ennis brothers each have a message for the other. "They're each telling the other it's unfortunate you're going to lose," McIntyre said. As for their father, he can't lose. No matter who wins the Syracuse-Villanova game, the family comes out on top. "Hey, I'm in a situation where I'm just proud of them for getting to where they are and proud of the teams that they both play for," McIntyre said. "I'm just going to sit there and enjoy it." Photos: Tony McIntyre; Getty Images
Follow Adam Zagoria on Twitter
And like ZAGS on Facebook