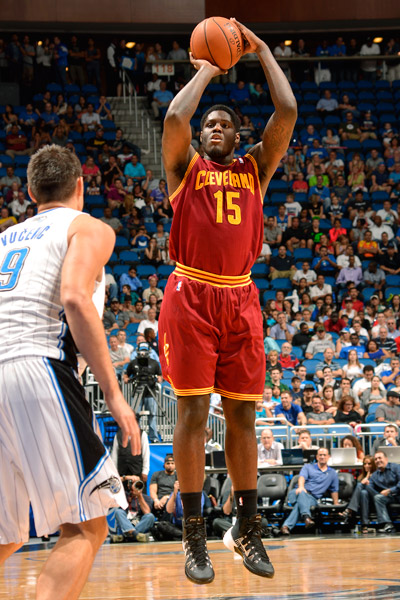 Anthony Bennett,
the struggling No. 1 pick of the Cleveland Cavaliers, says he would be open to going to the D-League to work on his game.
"It's something I'd think about, for sure," Bennett
told the Akron Beacon Journal this week
. "It's not a bad thing, especially going down there, hopefully playing a lot, going out there, building my confidence." Bennett is averaging just 2.4 points and 2.2 rebounds for the Cavs and is on the verge of being considered a bust. Speaking on ESPN's "Pardon the Interruption" this week, Tony Kornheiser said, "I don't think he's a bust yet but he's trending that way.' No No. 1 pick has ever been sent to the D-League, although former No 2 pick
Hasheem Thabeet
spent time there.
Shabazz Muhammad,
last year's No. 14 pick, was recently recalled by the Minnesota Timberwolves after playing well in four games in the D-League. The Cavs conceded they are considering the same move with Bennett. "We talked a little bit about it, but we've talked about all of our rookies at one point in time going," coach
Mike Brown
said. "That's going to be a call that [General Manager
Chris Grant
] has to make and he's got to feel comfortable with. Right now there's still an opportunity for him to possibly play some minutes. While he's here in uniform, I'm not necessarily thinking about him going down there." One NBA executive told SNY.tv it might not be a bad move to send Bennett down. "Nobody was more surprised that he went No. 1 than him and now he's a victim of his own draft position," the executive said. "It's a shame because he's a good kid. If he had gone mid-lottery nobody would be noticing right now."
Photo: ESPN