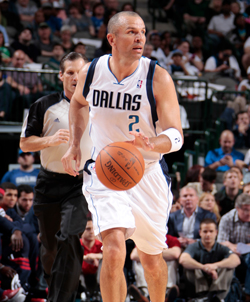 The Knicks missed out on one veteran point guard but will sign another.
Having swung and missed on
Steve Nash
after
he chose the Lakers Wednesday night
, the Knicks have agreed to sign veteran
Jason Kidd
to a three-year, $9-million deal. The story was first reported by 
ESPN.com
 and confirmed by a source close to the process to SNY.tv. "I just felt it was the right move," Kidd
told the Star-Telegram
. "If [the Knicks] can re-sign
Jeremy Lin,
and they have
Carmelo [Anthony]
and
Tyson [Chandler]
and those guys, hopefully I can help them get a little bit better. "They have a lot of pieces, which was intriguing to me. Hopefully I can fit in." David Aldridge of NBA.com reported that Kidd turned down a three-year, $9.5 million offer to return to the Dallas Mavericks. Kidd, who recently bought a house in the Hamptons according to the Star-Telegram, said he was leaning toward re-upping with the Mavericks but changed his mind after playing a round of golf on Thursday. "It was very close," Kidd said. "In the morning I felt like I was going to be a Mav, then I went and played golf, and I just didn't feel right. "I talked to my wife about it and my agent, and we all kind of agreed that if you feel like you want to go to New York and try to help them, then you should. So that's the decision we made." Kidd, 39, led the Nets to two NBA Finals in the early 2000s and won an NBA title with Dallas in 2011. He averaged 6.2 points, 5.5 rebounds, 4.1 assists and 1.7 steals in 28.7 minutes last year in Dallas. The good news for the Knicks is they did not have to surrender second-year guard
Iman Shumpert,
a defensive specialist who could have been part of a sign-and-trade for Nash. Shumpert is not due back until December or January while he recovers from an ACL tear, but he is a valuable piece going forward. He was the heart of the team for periods last year, and was also the Knick's best perimeter defender.
Kidd cannot re-sign officially until July 11, when the moratorium on free agent deals ends. If the Knicks re-sign
Jeremy Lin
, who received a four-year, $31-million offer from the Houston Rockets, Kidd could mentor him before retiring. "It could have gone either way," Kidd said of the choice between New York and Dallas. "I feel like I can still give a lot to the game and I still feel like I can compete and help a team win, so I feel like I can help New York. "They were interested, so that always helps." The Daily News reported that the Knicks would either re-sign Lin or go after free agent
Raymond Felton
, who was dealt to the Denver Nuggets in the Anthony trade.