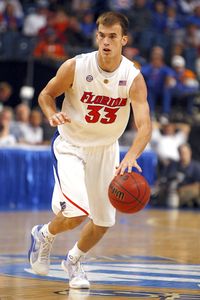 The Florida Gators are in the news on two fronts today.
First off, sophomore point guard
Nick Calathes
will bypass his final two years of college eligibility to play professionally…in Greece. Calathes, who holds a Greek passport and has dual citizenship, has agreed to terms with Euroleague champion Panathinaikos , the
Orlando Sentinel reported
. Calathes will reportedly earn $1.1 million in addition to home, car and tax credits. As part of the deal, he will have to pull out of the NBA Draft by June 15. Calathes, who averaged 17.2 points, 6.2 assists and 5.3 rebounds  last season, recently worked out for the Dallas Mavericks, who were interested in taking him at No. 22 in the June 25 NBA Draft. Calathes will join a number of Americans who chose to play in Europe. Point guard
Brandon Jennings
, who skipped his freshman year of college to play in Italy, is expected to be a lottery pick in the upcoming draft, and 6-10 high school junior
Jeremy Tyler
of San Diego will forgo his senior year to spend two years in Europe, potentially in Greece. Panathinaikos, which has won 29 Greek national titles and five Euroleague crowns, has featured a number of American over the years: 
Dominique Wilkins, Byron Scott, Antonio Davis, Tony Delk
and
John Salley.
By going to Greece, Calathes will also be closer to his brother, Pat, the former St. Joe's star who now plays for Greek team Maroussi. Jeff Goodman of
FoxSports.com reports
that
John Calathes
, Nick's father, is behind the decision. "It makes no sense," a source told Goodman. "Nick's dream, like most American kids, is to play in the NBA. His dad is behind the decision."
In other Florida developments, the New York Daily News quoted sources close to Brooklyn Lincoln guard
Lance Stephenson
saying that Florida is now in play for the 6-5 McDonald's All-American.
Gary Charles,
who coached Stephenson on the New York Panthers AAU team, said it wouldn't surprise him if Florida came after Lance because the Gators needed a guard to replace Calathes. The Gators were in the
John Wall
Sweepstakes before Wall chose Kentucky. Yet Stephenson is a shooting guard, not a point guard, so he wouldn't exactly fill the need. I haven't gotten any independent confirmation that Florida is after Lance, and the
leading programs still appear to be Arizona, Maryland and Memphis
. Stephenson's sexual assault case was adjourned until June 29 and it remains possible that no school would take a commitment from him until that is resolved.
His attorney,
Alberto Ebanks,
is trying to get the case dismissed or plea bargained. WildAboutAZCats.com, citing a university source, reported that if Stephenson enrolled at Arizona before his name is cleared his enrollment would be subject to review by Arizona president
Robert Shelton
. Stephenson could be in violation of the Arizona's Code of Conduct rules for current and prospective students if his name is not cleared. The rule for prohibited conduct includes: "Engaging in any illegal sexual offense, including but not limited to, sexual assault, public sexual indecency, or indecent exposure." (Photo courtesy Kim Klement/US Presswire)