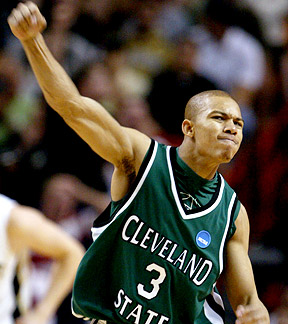 Twenty-three years after Cleveland State last made news in the NCAA Tournament,
Gary Waters
and company did it again.
The No. 13 Vikings never trailed and shocked No. 4 Wake Forest 84-69 in the Midwest Regional. The win came 23 years after the 1986 team stunned
Bob Knight's
Indiana team in the first round and went on to reach the Sweet 16 before losing to
David Robinson's
Navy club. "We understand what the '86 team did was important for our school," said
Norris Cole,
who led Cleveland State (26-10) with 22 points. "But now it's time for a new chapter."
Cedric Jackson
had 19 points, 8 assists and 7 rebounds for Cleveland State, which has won 13 of its last 14. The 15-point margin of victory was the third-highest ever for a No. 13 seed. The 4, 5, 6 and 7 seeds are all out in the Midwest. "We had to hit them early in order to be in that game because they're a very, very talented group and I think what we did was, we surprised them and it took them a while to realize what was occurring out there and then it became a ball game," said Waters, the former Rutgers coach. Wake had once been ranked No. 1 in the nation this year but closed the season 7-6.
Jeff Teague
managed just 10 points in the biggest game of the year. "It was a tough loss," said Wake's
Ishmael Smith
. "I've never felt this way in my life. I hate losing more than anything and to taste this, it hurts." Next up for Cleveland State is No. 12 Arizona, which beat No. 5 Utah 84-71. Some experts had said Arizona didn't belong in the tournament, but
Russ Pennell's
group proved them wrong.
"As far as us belonging here, we definitely belong here," said Pennell, the interim coach. "And today was not about proving that. Our motivation was to win this game and move on in this national tournament."
Chase Budinger
had 20 points and 8 boards for the Wildcats. "We've had hardships throughout the whole season but we stuck together as a team," Budinger said. "We united and came closer with those hardships and that's what made us at this point that we're at now. We're just trying to play our best basektball right now."