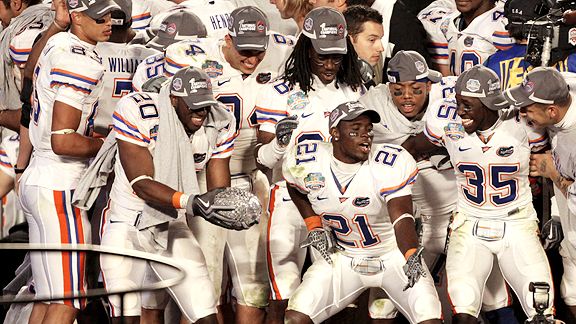 Now that all the Bowl Madness is over, and Florida has beaten Oklahoma, 24-14, for the BCS National Championship, we ask: Who is your vote for the No. 1 team in the nation?
**Florida **Utah **USC **Texas Here's how the AP and Coaches' polls played out:
FINAL AP POLL
1. Florida 13-1 (48 votes) 2. Utah 13-0 (16) 3. USC 12-1 (1) 4. Texas 12-1 – 5. Oklahoma 12 -2 –
FINAL USA TODAY COACHES' POLL
1. Florida 13-1 (60) 2. USC 12-2 3. Texas 12-1 4. Utah 13-0 (1) 5. Oklahoma 12-2 You have to love Utah coach
Kyle Whittingham
voting his team No. 1 in the Coaches' poll even though the American Football Coaches Association has agreed to have all its voters place the winner of the BCS national championship game first on their ballots. Utah did receive one first-place vote in the coaches' poll and finished fourth. Whittingham isn't worried about losing his vote. "That's their call," he said. "I have to look out for my players."
WE NEED A PLAYOFF SYSTEM
I'm with President-elect
Barack Obama
. We need a playoff system.
How sweet would an eight-team tournament be with all of the above teams, along with Alabama (12-2), Penn State (11-2) and somebody else? Obama endorsed a playoff system during an interview with
Steve Kroft
of "60 Minutes" back in November. "If you've got a bunch of teams who play throughout the season, and many of them have one loss or two losses, there's no clear decisive winner. We should be creating a playoff system," he said. According to Obama's proposed system, eight teams would play over three rounds to settle the national champion. "It would add three extra weeks to the season," he said at the conclusion of a wide-ranging interview. "You could trim back on the regular season. I don't know any serious fan of college football who has disagreed with me on this. So, I'm going to throw my weight around a little bit. I think it's the right thing to do." After last night's game Obama amended his comments somewhat. "I think a football playoff system makes sense….I've got to pick and choose my battles," he said. "I probably am going to be spending more time focusing on creating three million more jobs."