NEW YORK
— During his visit to Madison Square Garden Thursday night,
Anthony Bennett
was exposed by
J.R. Smith
and consoled by
Carmelo Anthony.
Such is the state of affairs for the reigning No. 1 Draft pick of the Cleveland Cavaliers. During the first quarter of the Knicks' 117-86 blowout of the Cavs, Smith dazzled Bennett with his crossover and left him in his wake before driving the baseline for an emphatic dunk. "[The Knicks] spread the floor and if they see a mismatch they will iso what they think is the mismatch," Cavs coach
Mike Brown
said after the game. "With Bennett being a young guy, that is where they wanted to go with it." The move by Smith, coupled with Bennett's final line of 4 points, 2 rebounds and 3 fouls, epitomized what has been a brutal rookie year thusfar for the 6-foot-8 Canadian forward who some are already labeling a bust. His struggles were confirmed by the NBA itself when Bennett was left off the roster for the Rising Stars Challenge, making him just the second healthy No. 1 pick (after
Kwame Brown)
not to be selected for the game. Still, despite all Bennett's struggles, Anthony took the time to console the rookie after the game and offer him some positive words.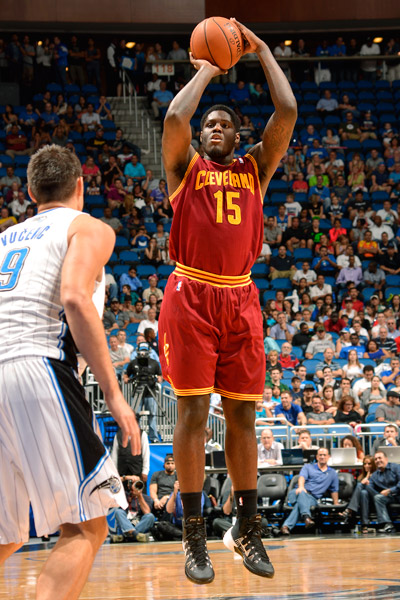 "Yeah, yeah, I talked to him, man," Anthony said after scoring 29 points in the Knicks' fourth straight win. "Somebody told me that I was his favorite player last year. So I never really got a chance to talk to him but tonight it was my opportunity to let him know that everything will be fine. Just keep working and don't get down on yourself. Everybody have times like this and it will get better." Anthony's words made an impression on Bennett, who came out after just one year at UNLV. "He just said, 'Keep working, keep my head up' and it helped out a lot," Bennett said. In the Cavs' locker room, Bennett dressed in relative anonymity while a small crowd of reporters flocked to hear
Kyrie Irving
address the latest round of reports that he wants out of Cleveland
. Bennett had tape and ice around his surgically-repaired left shoulder after the game. His agent
, Mike George,
believes that Bennett's surgery on May 8 and lack of adequate recovery time are a major reason why he's averaging just 2.8 points and 2.4 minutes. "Just the fact that he's he lost 17-20 pounds and he's trying to get his timing, he's gotta figure it out," George told SNY.tv. "He's never known what the NBA timing is until now and I don't think anybody picks that up in 20 games. Give it some time." Bennett wasn't able to train or play during the summer, and wasn't cleared for five-on-five scrimmages until mid-September. "If he was able to participate in summer league, he's able to go out there with a mark on his back because he's the No. 1 pick," Brown said. "He's gonna be the man on our summer league team, and people are gonna go at him. So he would've had a chance to see how hard it was gonna be, and then what adjustments he needed to make on his game in the months of August and September and October. But he missed all of that…and he was kind of thrown into the fire a little bit while being the No. 1 pick. So it would be a tough go for any young person, especially someone of his age." Said Bennett: "The situation I'm in, I came in with no work in the summer so this is my time now." The Cavaliers made Bennett the surprise No. 1 pick last year when they were also said to be considering
Ben McLemore
of Kansas. He is surrounded by other capable scorers in Irving,
Luol Deng
and
Tristan Thompson
, so his offense isn't really needed at this point. And that's a good thing. He failed to make a field goal in his first four NBA games and has only reached double-figures once this season, when he went for a career-best 15 points in Tuesday's loss to the New Orleans Pelicans — his 33rd career game. "It was a good night for me but you can't look into the future for that one, you just gotta keep working, keep going to the gym and get better every day," the softspoken Bennett said.
Bennett has said he would be open to spending time in the D-League
, but it hasn't come to that yet. No No. 1 pick has ever been assigned to the D-League, although former No 2 pick 
Hasheem Thabeet
 spent time there. For now, the Cavs plan to stick with their No. 1 pick and let him slowly adjust to life in the NBA. "[Bennett] has played very well in practices," Brown said. "So I'm just to going keep trying to give him minutes." Photo: ESPN
Follow Adam Zagoria on Twitter
And like ZAGS on Facebook