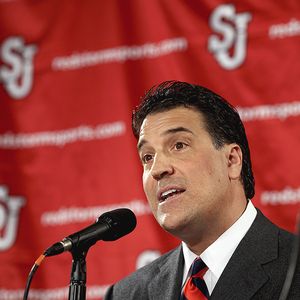 NEW YORK
— Speculation about
Steve Lavin's
future at St. John's has followed him virtually ever since the day he arrived in 2010. Between his own battle with cancer, his father Cap's death, his California roots, his background on TV and the team's current struggles, there have been no shortage of reasons to speculate that he might leave. But Lavin told SNY.tv following his team's 77-76 win over Seton Hall Thursday night at Carnesecca Arena that he plans to finish his career in Queens. His current contract runs another two years beyond this and it's possible he could remain still longer than that. "From the first day on the job to the present, I've had the greatest possible support from the St. John's administration that any coach could ask for and I have no intention of leaving St. John's," Lavin, 49, told SNY.tv. Lavin and the Johnnies entered this season with high expectations of making the NCAA Tournament for the second time in his four-year tenure, but are now just 1-5 in the Big East after getting their first league win against a Pirates team that has dropped four of five. Lavin admits frustration with the team's tough start, but believes the Johnnies can still make a run and save their season going forward. He pointed to his first year at St. John's, when the team lost five of six in the middle of the season, and still made the NCAA Tournament. Of course, that was with
Norm Roberts'
players, and now this team is composed of Lavin's own players, so he must take responsibility for what happens. "There's so much basketball ahead of us, we still got another 12 games, and in theory the more favorable part of our schedule comes in the second half," Lavin said. "We had the brunt of the brutal schedule, let's face it." He maintained that he's always said the team might not "hit its stride" until late January or February. "Now, I had hoped right out of the gate to accumulate more wins during conference play," he conceded. Still, the Johnnies must now go to Butler and to Creighton, two spots that are incredibly tough to play. At this point, Villanova, Creighton and Xavier appear to be the only safe bets in the Big East to make the NCAA Tournament, and it's entirely possible the Big East could get fewer teams in the Big Dance than the Atlantic 10. Yet Lavin believes his team can still do it, which probably means winning the Big East Tournament in March at the Garden. "Our internal expectations are always higher than the outside so our internal goals are to win the Big East, win the Big East Tournament, make a deep run in the NCAA Tournament and have a chance to compete for an NCAA championship and those goals are there every year," Lavin said. "Now some seasons those goals are more realistic than others." He added: "We hold ourselves more accountable when it comes to expectations than the outside, than our fans or the media will." Although the Johnnies are projected to have a couple of pro players in
JaKarr Sampson, Chris Obekpa
and possibly
Rysheed Jordan,
most, if not all, will likely return next season, meaning St. John's will keep this same core going forward. They may add a late signee like an
Adonis Dela Rosa
of Christ the King, who is being courted by numerous schools, and remain in the mix for 2015 Roselle (N.J.) Catholic guard
Isaiah Briscoe
and 2015 Our Savior forward
Cheick Diallo.
For now, Lavin's team has underperformed and he knows it. But he believes there is still magic left to make.
Follow Adam Zagoria on Twitter
And like ZAGS on Facebook