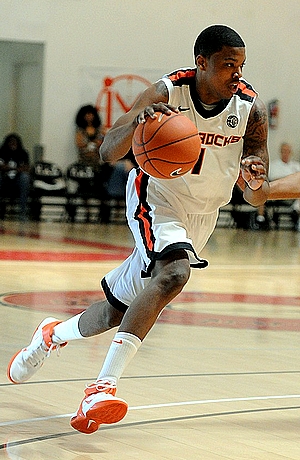 The NBA's age limit rule means that high school players can no longer jump straight to the NBA. But
Ricky Ledo
is basically attempting to do just that. Ledo's last organized game came at South Kent (Conn.) prep during the 2011-12 season, where he averaged 23.4 points and 6.2 rebounds. He never played a second of college ball at Providence after being declared academically ineligible last season. He practiced with the team but did not play games. Had the 6-foot-6 Ledo played last season, it's possible he would be a top-five pick right now. Still, he has always been considered a special talent, and now he's being projected as an early-second-round pick despite having never played in college. On Friday, he worked out for the Knicks — who own the No. 24 pick in the June 27 NBA Draft — and said he believes he's ready for the NBA despite lacking any college experience. "For me not to play a year, and to be where I'm at, compared to a lot of other guys who played college, I'm definitely worthy of a pick and can hold my own," Ledo, who turns 21 in September, told reporters Friday. Ledo will work out for the Phoenix Suns on Sunday and will also visit Cleveland, Dallas, Portland, the L.A. Clippers, Milwaukee and Detroit. He has already worked out for Chicago, Boston, San Antonio, Houston, Minnesota, Denver and Memphis. "I believe that Ricky's upside is tremendous," his agent,
Seth Cohen
, told SNY.tv. "More importantly, there are many GMs and NBA personnel who feel the same way." Despite attending four high schools in five years — including two stints at South Kent sandwiched around one at Notre Dame Prep (Mass.) — Ledo was recruited by elite programs like Kentucky, Florida, UCLA, Arizona and Syracuse. He ultimately pledged to his hometown school, Providence, not once, but twice (after decommitting once). He comes from a tough family situation, but has has overcome that, relying on his aunt and his grandparents, 
Ada 
and
 Julio Carrasco,
for guidance and support
.
They were a primary reason why he chose Providence to begin with. "I can go right down the street to my house to talk to my grandmother, and I'm close with my grandparents,"
he told SNY.tv in the fall of 2011
. "That's a big reason I wanted them to see me play. My grandparents mean everything to me." After being declared ineligible last September, Ledo said it was tough to watch Providence play without him. Under coach
Ed Cooley
, Providence made a late surge, went 19-15 and reached the NIT quarterfinals. "It was real tough," Ledo said Friday. "All you want to do is you want to play when you can't do that. It was definitely tough just sitting there practicing all the time. It was a learning experience, definitely, playing with my teammates. It was hard to leave because of the relationship I had with my teammates and the bond." Ledo spent a lot of time — especially when Providence was on the road — working out with Providence standout turned undergraduate student assistant coach
God Shammgod.
"I think with hard work I can play right away," he said. "I definitely feel like I can shoot the ball and I'm fearless so I can go against anyone and I have confidence that I can do it so I have the confidence that I can play right away." Ledo impressed NBA scouts during workouts late in the season and ultimately decided to turn pro. "No college body of work, but he's very talented , really can shoot," one veteran NBA scout told SNY.tv. "He's a wild card, an X-factor who could go 25-35." With the Knicks, Ledo said he could play either guard position for a team that needs a backup point guard and possibly another shooter if
J.R. Smith
leaves via free agency. Sources confirmed to SNY.tv that Smith will definitely opt out. "I definitely see myself playing both guard spots, the 1 and the 2," Ledo said. "More of a 2. But I can play the combo guard, good at pick and rolls, can shoot the ball. So definitely more than capable." Though the Knicks are projected by some mock drafts to take forward
Tony Mitchell
—
who also worked out Friday
— Ledo said he would love the chance to play in New York. College or no college. "Definitely, I think I can step in and help," Ledo said. "Definitely
Carmelo [Anthony
] makes it easier.
Amar'e [Stoudemire]
in the post. So you have a lot of options on the team. And it won't put that much pressure on me to come in, so it definitely feels like I can come in and fill that void of a backup point guard and back up combo guard."
Follow Adam Zagoria on Twitter
And like ZAGS on Facebook