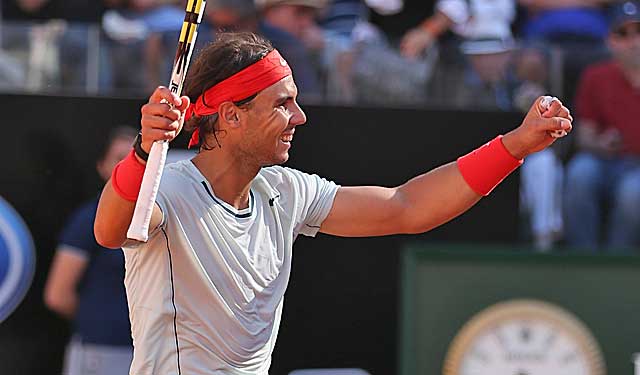 In this Golden Age of men's tennis, there are not one, but two players who could conceivably be considered the Greatest of All Time.
Roger Federer,
winner of a men's record 17 Grand Slam singles championships, is considered by many to be the GOAT.
But
Rafael Nadal
is charging hard on Federer's heels, if he hasn't already surpassed him. After dominating and embarrassing Federer, 6-1, 6-3, Sunday to win the title in Rome, Nadal has now won 20 of 30 career matches with his Swiss rival. Nadal will enter next week's French Open as the overwhelming favorite to win his eighth title at Roland Garros and his 12th career Major. "It's good for tennis because clearly we need Nadal because he's one of the greatest players that ever lived, no doubt about it," seven-time Major winner
John McEnroe
said Monday on a conference call set up by The Tennis Channel. "You could make the argument that he is the greatest player that ever lived." Like Federer, Nadal owns a career Grand Slam, with seven of his 11 titles coming at Roland Garros. At 26, Nadal seems much more likely to add to his career total than the 31-year-old Federer. Still, McEnroe and
Cliff Drysdale
,
among others, believe Federer can win another Major
. "I think his best bet, as I've said for years, is Wimbledon," McEnroe said of Federer, who won his 17th Major there last summer. As dominant as Federer's career has been, can you really call someone the GOAT when he has a losing record — by a 2-to-1 margin — against his chief rival?
Pete Sampras
, by contrast, never won the French Open, but went 20-14 against his chief nemesis,
Andre Agassi.
Nadal's title in Rome was the Spaniard's sixth since returning earlier this year from a seven-month layoff due to a left knee injury. "I'm playing much better than I dreamed of a few months ago," Nadal said. "I'm doing the right things to play well." Federer complimented Nadal for the way he took his time before returning to the circuit. "It goes to show that's what every player should do," Federer said. "Now he's as strong as ever and is going to be the favorite for Roland Garros." You can say that again. It's hard to imagine anyone beating Nadal at Roland Garros, where he has won every match he has played except once since 2005. "I'm really happy for him and impressed that he's come back," McEnroe said. "It seems like he's barely lost anything, if at all. Right now…he says he's playing the best he's been playing the whole year, which is sort of frightening for the other players." Top-ranked
Novak Djokovic
might have the best shot to take out Nadal, but he has been bothered by an ankle injury suffered in a Davis Cup match last week. "Djokovic, I'm not quite sure what his ankle situation is," McEnroe said. "So it's a little bit up in the air." McEnroe said it remains "possible" that some heavy hitter could oust Nadal from the French Open, the way
Robin Soderling
did in the fourth round of in 2009, enabling Federer to go on and win his only title there. "It's possible he might be caught off guard in a match, but it's unlikely that someone can still beat him in a best-of five," McEnroe said of Nadal. "The big hitters that presumably would try to swing for the fences would have the best shot I would think of possibly upsetting him. When it gets down to the latter parts of the tournament, even guys like
[Tomas] Berdych, [Juan Martin] Del Potro
, the big hitters, I would be hard-pressed to see them certainly going all the way and having the wherewithal to beat Rafa three sets. "Maybe one, possibly two, but to beat him three sets is unbelievably hard." (The AP contributed reporting)