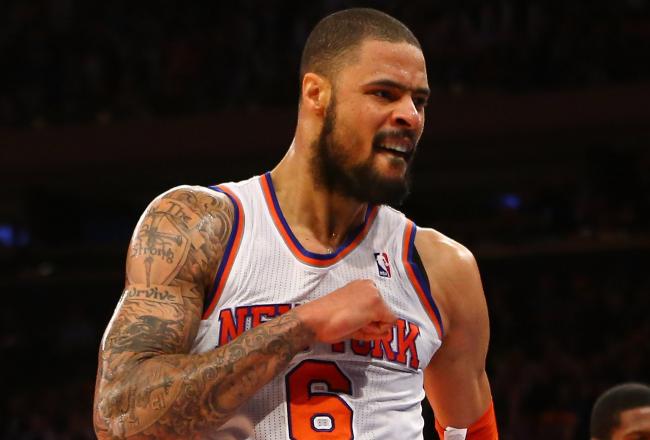 NEW YORK — Tyson Chandler
 missed his 10th straight game Sunday night because of a bulging disc in his neck, but the Knicks All-Star center said he hopes to practice Monday and return Tuesday against the Heat in Miami. "Yeah, absolutely," he said Sunday evening after he worked out on the court — including taking several short hook shots — for the first time since the injury surfaced after he was hit in a game March 13 at Denver. "That's what I'm shooting for barring any setbacks." After dispatching the Boston Celtics 108-89, the Knicks are 8-2 and have won eight straight without Chandler, who is averaging 10.7 points and 11.0 rebounds on the season.
The playoffs begin April 20 and Chandler hopes to be back well before then in order to be ready for the postseason. "I like to be on the court and want to be out there for my teammates, so if I can play, I'll play" he said. "But I know I also have to do what's best for my teammates and being 100 percent and being able to be active is what's best for my teammates at this point, especially going to the playoffs." He warmed up for several minutes before the Celtics game, including taking hook shots and short sprints. "This is the first time I've been able to really to lift my arms above my shoulders without kind of feeling any pinch in my back," Chandler said. Chandler said the pain was so bad, he nearly got an epidural after meeting with a specialist last Thursday in New York. Instead, he has been taking oral anti-inflammatories and doing rehab. "I'm thankful I didn't have to get the injection," he said, adding that the pain was "excruciating." "It became excruciating, honestly, to where I kind of couldn't even move," he added. "But after a while of letting it calm down, then it became to where I could walk around but just couldn't sit for long periods of time or move without spasming up or catching pain. "But this is the best I've felt since so I'm optimistic that it's getting better." Knicks coach
Mike Woodson
called Chandler "day-to-day" before the game. "We'll welcome him back if he tells me he's ready to go," Woodson said after the victory.
Follow Adam Zagoria on Twitter
And like ZAGS on Facebook