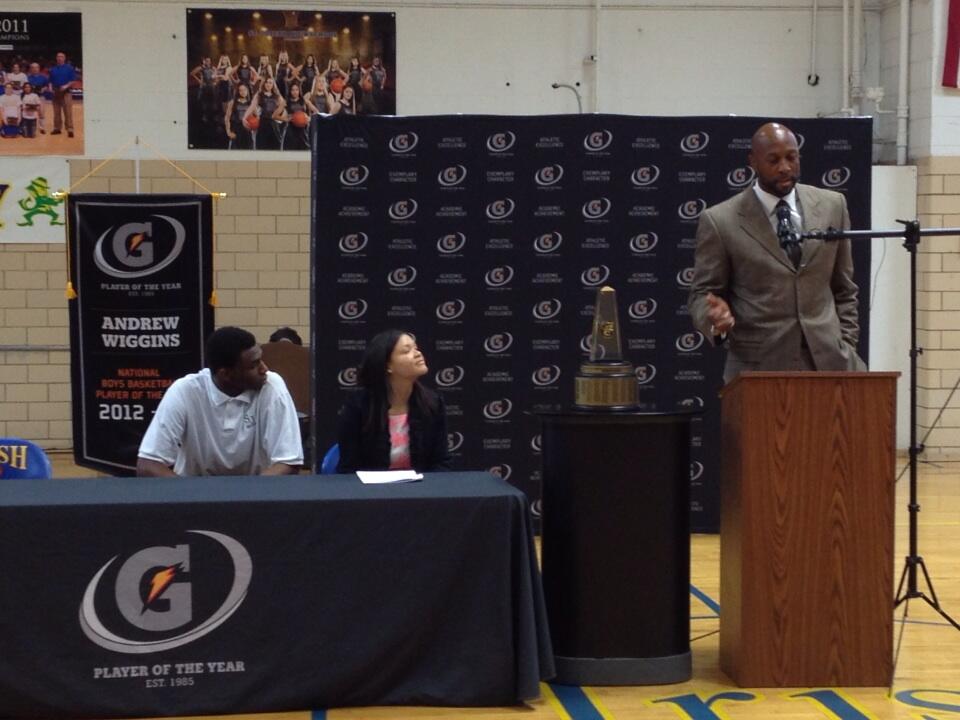 Andrew Wiggins
was named the 2013 Gatorade National Player of the Year on Tuesday, and was presented with the award by former NBA star
Alonzo Mourning.
The 6-foot-8 Wiggins averaged 23.4 points, 11.2 rebounds, 2.6 blocks and 2.5 assists per game this season, leading the Express to a 30-3 record, according to USA Today. "When I received the award, it was a really significant moment for me, so it felt great to surprise Andrew with the news and invite him into one of the most prestigious legacy programs in high school sports," said Mourning, a Gold Medalist, seven-time NBA All-Star, and two-time NBA Defensive Player of the Year. "Gatorade has been on the sidelines fueling athletic performance for years, so to be recognized by a brand that understands the game and truly helps athletes perform is a huge honor for these kids." "Without question, Andrew is deserving of recognition as the nation's best high school boys basketball player based on his statistics on the court and the impact his accomplishments have had on Huntington St. Joseph's Prep's success," said Gatorade Vice President, Global & Sports Marketing
Andrea Fairchild
.  "But he is also a shining example to peers and aspiring young athletes of what a leader and a student-athlete should be.  He represents everything we hope for in a Gatorade Player of the Year recipient." Wiggins is projected as the No. 1 pick in the 2014 NBA Draft, but first must pick a college. Wiggins is considering Florida State, Kansas, Kentucky and North Carolina. He is more likely to announce via a low-key Tweet than he is during a press conference or TV announcement, Huntington Prep coach
Rob Fulford
told SNY.tv. Photo: Grant Traylor **For more stories on Andrew Wiggins, 
click here
.
Follow Adam Zagoria on Twitter
And like ZAGS on Facebook