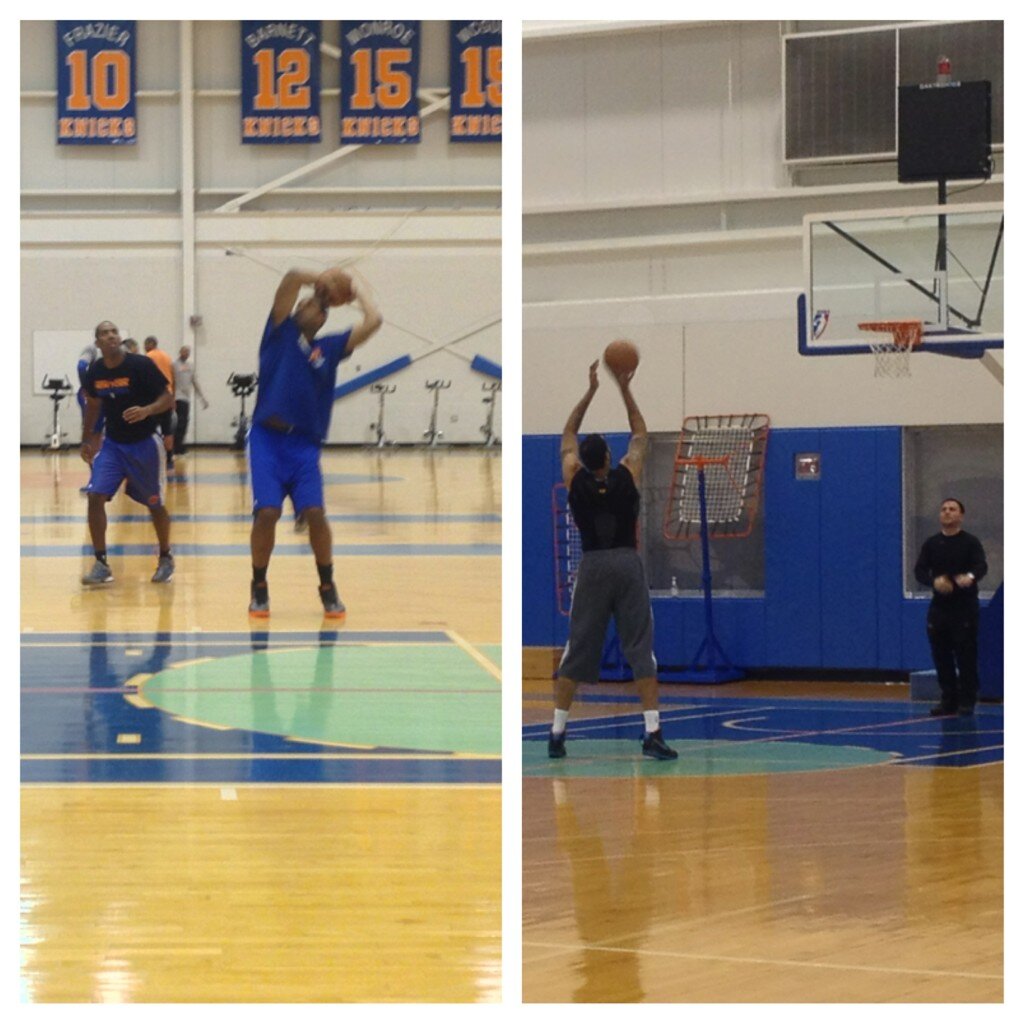 GREENBURGH, N.Y.
—
Rasheed Wallace and Marcus Camby
returned to Knicks practice Tuesday, but don't expect the aging big men to suit up anytime soon. "We had Rasheed and Marcus go through some conditioning work today and that was kind of nice to see," Knicks coach
Mike Woodson
said a day before the Knicks face the Pacers in Indiana to open the second half of the season. "But it's just good to be back and we've got to get these guys re-focused and ready to put a major push the second half." Wallace, who has been out since Dec. 13 with a stress reaction in his left foot, did not address the media. He was averaging 7.2 points and 4.2 rebounds before going down, and was a big part of stretching the Knicks' offense. There is no timetable on his return. "We still don't know," Woodson said. "Today was a step for both of them in terms of conditioning. Like I mentioned a week or so ago, I'm not just going to throw them in a uniform. They gonna have to show me that they can run up and down and participate a little bit in practice and then we'll consider putting them in a ballgame. "They're not going to ever play big minutes, but I just want them to be safe and somewhat physically ready to play when I put them in there." Asked if Wallace, 38, could get back to where he was early in the season, when the Knicks (32-18) raced out to an 18-5 start, before going 14-13 after that, Woodson said: "I think so. We've been very cautious up until this point and we're just trying to stay the course of both of them getting back to where they can run up and down and cut a little bit and hopefully give us some positive minutes." Camby averaged 2.1 points and 3.7 rebounds before going down with plantar fasciitis. He hasn't played since Jan. 10 against Indiana.
Amar'e Stoudemire
 said he believes Wallace and Camby can help the Knicks when they do return. "There's no rush for those guys," he said. "We can hold it down until they get back. We've been playing fairly well. We just gotta key in on our strategy on both ends and just get back out there and play."
NO TRADES IMMINENT
Despite talk of an
Iman Shumpert-for-J.J. Reddick
or Shumpert-for-
Paul Millsap
deal, Woodson said nothing was imminent as Thursday's NBA trade deadline looms. "I don't think we have anything working," Woodson said. "We always talk but we like the makeup of our team and as we stand today, this is our basketball team and we gotta move forward in the right direction." Speaking on ESPN New York 98.7 FM, Woodson reiterated that he didn't expect any trades to be made. "We're not really looking to do anything in terms of adding anyone," he said. "If you're going to add somebody and make a major move, you gotta add the best players in the league, but that's just not gonna happen. "I think our team is what it is right now in terms of the makeup of our team and we're not going to make any moves right now as we speak. So we gotta live with what we have."
NO CHANGE IN LINEUP
Woodson had intimated before the All-Star break that he might put
Ronnie Brewer
back into the starting lineup, but he said no changes were planned. Stoudemire will also continue to come off the bench. "I'm not going to panic and make any unnecessary changes that I don't think we need right now," Woodson said. Said Stoudemire: "'That's the coach's decision. That has nothing to do with me. I feel great … But it's the coach's decision."
Photo: Jonah Ballow
Follow Adam Zagoria on Twitter
And like ZAGS on Facebook