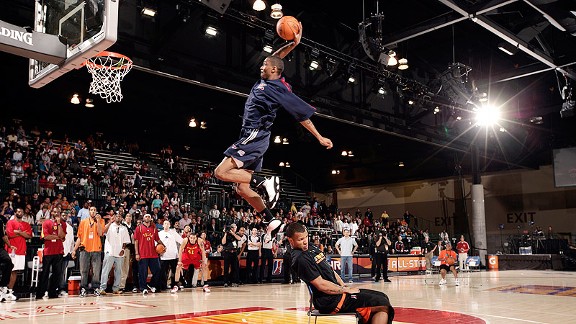 And then there were four. Four Knicks are in the All-Star festivities in Houston now that
James White
has been added to the Slam Dunk contest and
Steve Novak
will fire away in the 3-Point Contest. "A lot of people haven't seen James,"
Carmelo Anthony
, who will play for the East in the Feb. 17 All-Star Game with teammate
Tyson Chandler
,
told ESPN.com
. "He's the best-kept secret." The 6-foot-7 White will compete in the Dunk Contest against
Jeremy Evans
of Utah,
Eric Bledsoe
of the Clippers,
Kenneth Faried
of Denver,
Gerald Green
of Indiana and
Terrence Ross
of Toronto. "I saw James when I was probably like 10, 11 years old," Kevin Durant told ESPN.com. "That was the first time I saw him play, in D.C. He was just flying. He jumped from the free throw line, dunked between the legs before anybody I've seen do it. He was like the most athletic guy ever. Hopefully he gets in the dunk contest." White said
 Vince Carter
 is his favorite dunker of all-time but he has no specific dunks in mind. There won't be any jumping over cars. "Nah, I won't be doing none of that stuff," he said recently. Novak, who is third in the NBA in 3-point shooting at 44.4 percent, will join fellow sharpshooters
Kyrie Irving
of Cleveland and
Paul George
of Indiana — both first-time All-Stars — as well as
Ryan Anderson
of New Orleans,
Matt Bonner
of San Antonio and
Stephen Curry
of Golden State. "I would love to, I would love to, so obviously we're still hoping that that happens," Novak said before it was announced.
SLAM DUNK WINNERS
1984—Larry Nance, Phoenix 1985—Dominique Wilkins, Atlanta 1986—Spud Webb, Atlanta 1987—Michael Jordan, Chicago 1988—Michael Jordan, Chicago 1989—Kenny Walker, New York 1990—Dominique Wilkins, Atlanta 1991—Dee Brown, Boston 1992—Cedric Ceballos, Phoenix 1993—Harold Miner, Miami 1994—Isaiah Rider, Minnesota 1995—Harold Miner, Miami 1996—Brent Barry, L.A. Clippers 1997—Kobe Bryant, L.A. Lakers 2000—Vince Carter, Toronto 2001—Desmond Mason, Seattle 2002—Jason Richardson, Golden State 2003—Jason Richardson, Golden State 2004—Fred Jones, Indiana 2005—Josh Smith, Atlanta 2006—Nate Robinson, New York 2007—Gerald Green, Boston 2008—Dwight Howard, Orlando 2009—Nate Robinson, New York 2010—Nate Robinson, New York 2011—Blake Griffin, L.A. Clippers 2012—Jeremy Evans, Utah Jazz
FOOT LOCKER THREE-POINT CONTEST YEAR-BY-YEAR WINNERS
1986 – Larry Bird, Boston 1987 – Larry Bird, Boston 1988 – Larry Bird, Boston 1989 – Dale Ellis, Seattle 1990 – Craig Hodges, Chicago 1991 – Craig Hodges, Chicago 1992 – Craig Hodges, Chicago 1993 – Mark Price, Cleveland 1994 – Mark Price, Cleveland 1995 – Glen Rice, Miami 1996 – Tim Legler, Washington 1997 – Steve Kerr, Chicago 1998 – Jeff Hornacek, Utah 2000 – Jeff Hornacek, Utah 2001 – Ray Allen, Milwaukee 2002 – Peja Stojakovic, Sacramento 2003 – Peja Stojakovic, Sacramento 2004 – Voshon Lenard, Denver 2005 – Quentin Richardson, Phoenix 2006 – Dirk Nowitzki, Dallas 2007 – Jason Kapono, Miami 2008 – Jason Kapono, Toronto 2009 – Daequan Cook, Miami 2010 – Paul Pierce, Boston 2011 – James Jones, Miami 2012 – Kevin Love, Minnesota
(Photo: Getty Images)