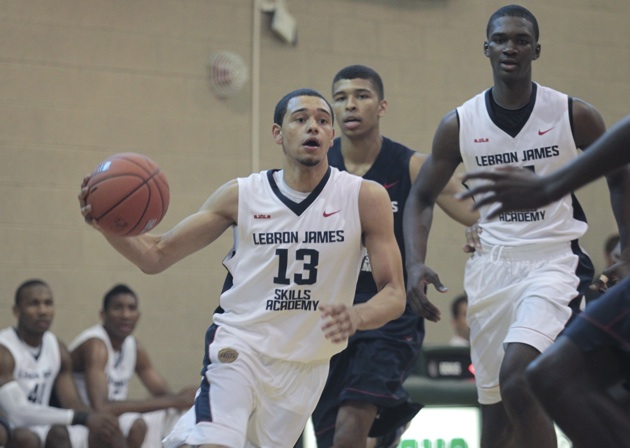 Here's a list of nominees for the McDonald's All-American Game April 3 in Chicago who are from New Jersey and New York. Note that there are 17 players nominated from New Jersey and only four from New York. Two of the New York kids aren't even in high school in New York. Jersey powers St. Anthony, St. Patrick (The Patrick School) and St. Benedict's have a combined five nominees.
The full list is here
. The team will be announced the week of Feb. 18 on ESPNU:
NEW JERSEY
Deandre Bembry, Patrick School (St. Joe's)
Josh Brown, St. Anthony (Temple) Reggie Cameron, Hudson Catholic (Georgetown) Austin Colbert, Gill St. Bernard (Illinois) Hallice Cooke, St. Anthony (Oregon State) Tyler Ennis, St. Benedict's (Syracuse) Kyle Green, Camden Catholic (Temple) Keith Kirkwood, Neptune (uncommitted) Jermaine Lawrence, Pope John XXIII (uncommitted) Jahleen Montague, Atlantic City (uncommitted) Davon Reed, Princeton Day (Miami) Dominique Reid, Timber Creek (uncommitted) Tyler Roberson, Roselle Catholic (Syracuse) Jaren Sina, Gill St. Bernard (Northwestern) Isaiah Watkins, St. Benedict's (Duquesne) Spencer Weisz, Seton Hall Prep (Princeton) Mike Young, St. Benedict's (Pitt)
NEW YOR
K Kentan Facey, Long Island Lutheran (UConn) Jordan Washington, West Oaks (Fla.) Tafari Whittingham, Lincoln (Now in JUCO) Ja'Leo Wilkins, Niagara Falls
PHILLY
For a list of the Philly kids,
click here for Josh Verlin's list
.
Follow Adam Zagoria on Twitter
And like ZAGS on Facebook