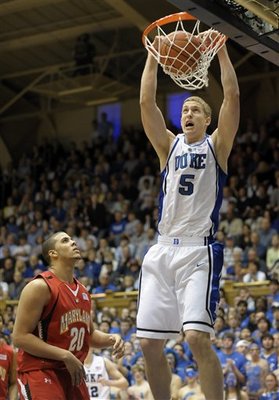 By DAN KELLY
Special to ZAGSBLOG
What if you were an NBA GM and I told you that there was a 6-foot-11 power forward who runs like a cheetah and jumps like a scared kangaroo? Then I told you that this same big man has nice face-up game and looks comfortable putting the ball on the floor. I know you're interested now but I'm not done. This kid is also a willing passer from the post who has a knack for finding open shooters and has spent the last three years of his life with maybe the best basketball coach in all of recorded history. I tell you that he averaged 11 points and 9 rebounds last year and that this season those numbers will increase.
Is he a hard worker?
 Of course. 
Does he accept coaching?
 Definitely. This sounds like a lottery pick right? This sounds like a pretty sure thing. Then I tell you that the kid is named 
Mason Plumlee
. Oh. That changes everything. But should it? Mason Plumlee will be a first round draft choice this year. I would never have felt comfortable writing that sentence if I hadn't watched his older brother Miles get taken in the first round last year. Miles averaged 6.6 points and 7.1 rebounds in his senior season at Duke. He never showed more than an ounce or two of effective basketball instinct. But he's 7-feet tall with a 40-inch vertical leap, a classic
Al Davis
pick. Mason Plumlee might not have the 40" vertical but he'll double his brother's scoring average and he'll probably grab 10 rebounds. The problem with Mason Plumlee has always been that self-conscious look in his eye. A shot goes up, Mason crashes the offensive glass and throws down a two handed tip jam. The camera zooms in on him running down the floor and he looks worried or concerned, like a scared robot. Mason Plumlee has never looked like he could lose himself in the innocent joy and freedom of a basketball game, not even for a moment. He dunks the ball and then runs down the court thinking, 
I should have slipped that pick and then I would have been open earlier and maybe I should have come down with that rebound and kicked it out for a corner three. Coach K loves kick out 3's. Ahhh.
 Point being, Mason Plumlee lacks confidence. Which is why Coach K said the following in his season opening press conference, "I think Mason, when you see him play, I just think he's one of the best players in the United States." Coach K is trying to build the confidence of Mason Plumlee. He wants Mason to be able to trust himself this year and to play a more aggressive, alpha-dog, type game. On Tuesday night, against a long, physical, and very active 
Nerlens Noel,
 Mason Plumlee showed flashes (he has always showed flashes). Early in the game Mason caught the ball in the midpost and then at the free throw line and made nice face up dribble drives to the rim. Then he disappeared for a while and I wondered how badly Mason Plumlee really 
wants
 the ball. Right on cue Mason posted up on the right block and
Jay Bilas
said, "Mason Plumlee really wants the ball right now." Again Mason drove around Noel for a reverse layup. Mason is not a threat to shoot the ball from the perimeter but he will drive and find shooters with passes. He covers so much ground with each step and really forces defenses to rotate. Then he locates the correct pass (which is made easier by Duke perimeter players who are well schooled in floating to open space for spot up 3's). Does he sometimes jump and then throw the ball away? Absolutely. Does it kind of look like he is driving to pass instead of driving to score? Yes, sometimes. Early in the second half Mason picked up his fourth foul and had to sit down for 8 minutes but he still managed to finish the game with 18 points on 7-8 shooting. That looks like a nice efficient night, but this is Mason Plumlee we're talking about, there's always more than meets the box score. On three different occasions Mason got the ball poked right out of his hands by Noel (Noel plays like a walk on. People are going to love him). On two other occasions he got in the air and threw the ball away. He picked up a horrible 4th foul when he crashed into Noel 20 feet from the hoop with 16 minutes to go in a tight game. Noel was probably more of a threat to kick the ball in the hoop from there than he was to shoot it. Mason must have been thinking 
Coach K loves to challenge perimeter passes so I better get up there
, as opposed to just being a smart basketball player who naturally plays according to the game situation. If I had to pick one play from last night that defines Mason Plumlee's game it came early in the first half. Mason set a pick and rolled to the rim. Perfect execution so far. The lob pass is in the air, two points are almost on the board. But Mason doesn't realize that he's open. The ball sails over his head and out of bounds. A turnover goes in the books for someone else. Mason Plumlee is like an outfielder who has a perfect fielding percentage because he doesn't have enough range to make errors on tough plays. His face up game is good so he'll get you a couple of buckets in the post. His offensive rebounding is good so he'll give you a couple of put-backs. But for three years now (and counting) we've been watching Mason Plumlee get balls poked away, misread lob passes, rotate too late on D, shoot when he should pass and (more often) pass when he should shoot. Is this really a guy you want to draft in the first round? According to 
draftexpress.com
 and 
nbadraft.net
 he sure is. At what point does 
potential
 become a white rabbit? Three years of tender love and instruction from Coach K seems like enough time for Mason to transform himself into a consistent basketball player. But I guess we'll give him one more year. He's going to get plenty of chances to prove himself as a senior and a featured scorer on this Duke team. Maybe next June we'll see him wearing suit and shaking David Stern's hand on stage.
And who knows, maybe he'll deserve it.