GREENBURGH, N.Y. — Tyson Chandler
and
Jason Kidd
believe the Dallas Mavericks could have won back-to-back NBA championships had owner
Mark Cuban
opted to keep the team together last season. "I definitely think that we had an opportunity to go back-to-back and unfortunately things were blown up," Chandler said on the eve of the undefeated Knicks (3-0) hosting Dallas (4-1) Friday at Madison Square Garden. "But that's the business side of it, that's something the players can't control." Instead, Cuban opted to blow the team up after winning the franchise's first championship in 2011 over
LeBron James
and the Heat. Chandler joined the Knicks in a sign-and-trade last December that resulted in him signing a four-year deal worth $58 million. Kidd and Cuban had a rift that led to the veteran point guard signing with the Knicks as a free agent this summer. Sharpshooter
Jason Terry
was also allowed to leave and sign with the Boston Celtics.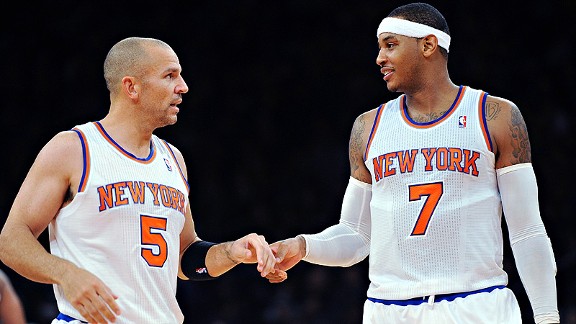 Asked if the Mavs could have repeated during the lockout-shortened 2011-12 season had they stayed intact, Kidd said: "You never know. In a short season anything's possible. But with that group of guys was very special and I think if you had asked, everyone would've loved to keep that team together but business just gets in the way  sometimes of a good thing and we didn't have that opportunity." Both Chandler and Kidd are now members of the only unbeaten team in the NBA after both the San Antonio Spurs and the Milwaukee Bucks lost Wednesday night. "I think it's big just because you want to start off the right way and regardless of how things go, I feel like this is a really good unique team," Chandler said of the 3-0 start. "Great personalities, great chemistry, there's a great vibe around the team. I'm excited about this season, I think it's going to be a really good one." New York, which played defense like the French Army under former coach
Mike D'Antoni
, also leads the NBA in points allowed (85.3). "The feeling is good," 
Carmelo Anthony
 said. "We're winning so I don't think nobody is down but the most important thing is that guys are still focused and we're 3-0 and playing very well. "Guys are still focused and trying to get better. Our practices are still tough and guys are locked in right now." Even at 39, Kidd has been an essential part of the Knicks' fast start, starting three all games at shooting guard. He's averaging 9.7 points, 3.7 rebounds and 3.7 assists in his first year in New York after spending 4 1/2 years in Dallas, the team that chose him with the No. 2 pick in the 1994 NBA Draft. The Mavs thought Kidd was definitely going to return to Dallas, and when he didn't Cuban took some shots at him in the media. "I'm sure I'll get over it t some point," Cuban said in mid-August on a Dallas radio station, "but as of now, I wouldn't put J-Kidd's numbers in the rafters. "I don't play for a jersey [in the rafters], I play for my teammates," Kidd said Wednesday. "Cuban owns the team, so he has every right to his opinion. The one thing he can't take away is the championship right that we helped him get." Chandler said he recruited Kidd to New York this summer, and now the former Dallas duo is off to the franchise's best start since the 1999-00 season. "I can see that, them [Dallas] being indecisive [about Kidd]," Chandler said. "But I'm just happy to have him here. The moment I heard it was a possibility I was on the phone trying to recruit him here because I know what he brings to the basketball team." And Kidd responded to the recruitment because of the depth he saw in New York.
"I mean the guys that he understands that he would have around him," Chandler said. "There's great personnel here and he feels like he has another chance to win a championship."